Positive cases of Covid-19 surge in Kirkuk amid calls by local health officials to follow preventive restrictions and vaccinate in order to curb the spread of the fourth wave of the pandemic.
Within the last week, January 14th-20th, Kirkuk health department has registered over 5,000 positive cases of Covid and according to the official statistics of the Ministry of Health, Kirkuk was ranked the first province of highest positive cases across Iraq for three days.
A video broadcast by the Kirkuk's Health Department on January 18th, the spokesman of general health Dr. Sabah Namiq blames the surge in positive cases to Omicron, the new variant of Covid-19 which is highly transmissible.
Dr. Namiq blamed the public for disregard of protective measures and low turnout for vaccination which both can curb wide spread of the new variant.
Dr. Munther Noman, director of the Contagious Diseases' Division in Kirkuk Health Department, regarding the ages that are infected said, "Infections are increasing on a daily basis from four years and above including young people despite their high immunity."
Noman confirms that "the increase in the number of infections is a result of citizens' failure to adhere to preventive instructions in the streets, markets, and even government institutions, and the failure to take vaccine doses."
On December 29, Kirkuk Health Department presented Covid-19 statistics for 2021, which indicated that 43,550 cases of positive cases were recorded, including 654 deaths from complications of infection with the virus.
This comes while the number of infections in 2020 reached more than 31,234 cases including 786 deaths from the virus.
Since the emergence of the Corona epidemic so far, more than 82,000 cases of Covid-19 have been recorded in Kirkuk, and 1440 people have died from the virus.
Coronavirus disease (COVID-19) is an infectious disease caused by the SARS-CoV-2 virus. Most people who fall sick with COVID-19 will experience mild to moderate symptoms and recover without special treatment. However, some will become seriously ill and require medical attention.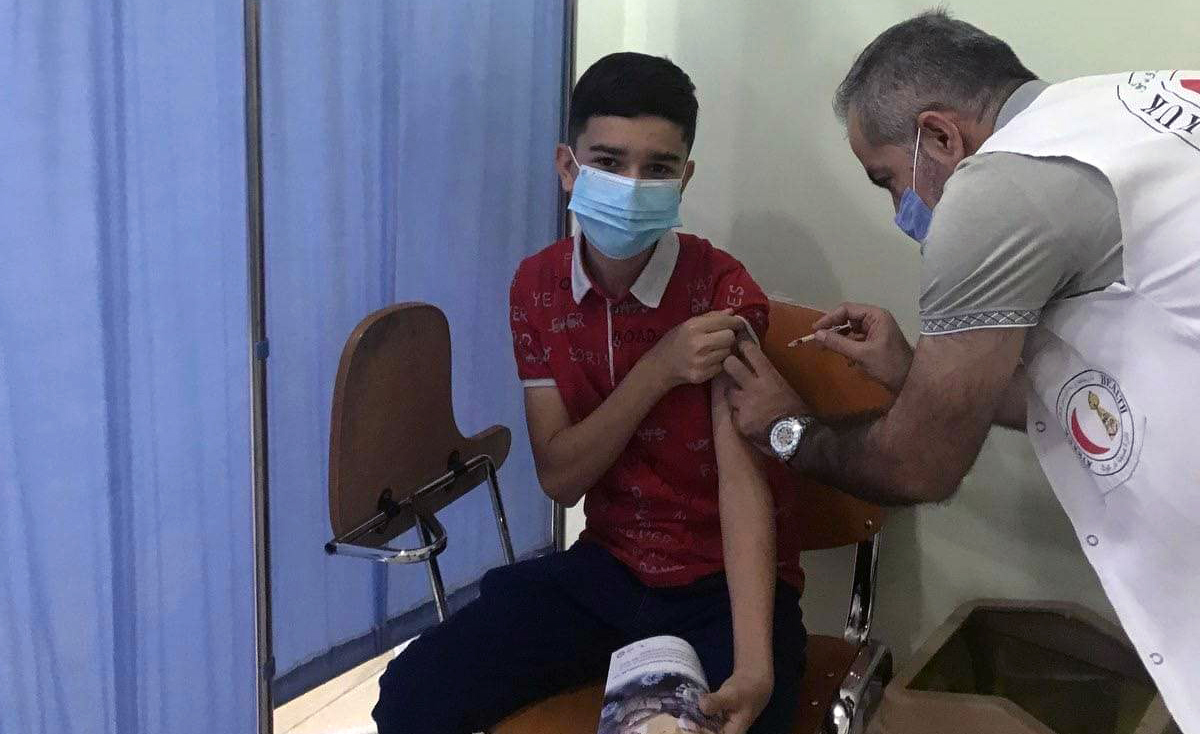 Kirkuk has registered five deaths due to Covid infection in the last week. However, the public deny the spread of the pandemic and are reluctant to take the anti-Covid jabs.
Laila Ali, a primary school teacher, believes the surge in positive cases are likely due to the students' failure to adhere to preventive measures in schools.
"Students don not wear the masks continuously up to four hours, which makes the student vulnerable to infection and transfer it from his classmates or the teaching staff to his family at home, especially since there are three or four students sitting on a one bench."
Though several schools were shut last week in Kirkuk following positive cases among students and teachers, Kirkuk Health department does not track special records for positive cases of Covid among teachers and students in schools.
Ali Hadi, owner of a vegetable store in the market, says: "Every day during our presence in the market, we notice dozens of citizens who do not wear mask, and they do not care about the presence of the virus. Out of every 100 people, we see 2-3 who using masks."
"We have heard a lot, through social media, that the virus does not exist, and that taking the vaccine does not change anything from the reality of the disease, if any," Hadi said while he was talking to several customer without a mask.
Dr. Noman explains that "the new mutant has spread widely, and is transmitted to citizens faster than before, and its symptoms are evident one day after infection, so we advise citizens to go to take the vaccine and adhere to the preventive instructions, and we advise the vaccinated to take the third dose because Kirkuk is the first governorate that started giving this dose in designated centers."
As of today, about 365,000 people out of a total of 1,7 million residents of Kirkuk province had received coronavirus vaccines, which represents 21.5%, compared to 20% in December 2021, 17.8% in November and 14% in October.