22 Syrians and Iraqis being smuggled into Iraqi territories in Nineveh province were arrested and currently investigated, a security source anonymously told KirkukNow on Sunday.
Residents of northeastern cities of Syria find Kurdistan Region of Iraq KRI a business hub where they serve in restaurants, cafes and construction business. There are over 240,000 Syrian refugees living in the KRI, figures by the Kurdistan Regional Government KRG show.
The Iraqi authorities have declared it has tightened its borders with Syria in the province of Nineveh in fear of infiltration by remains of the Islamic State in Iraq and Syria ISIS.
A security source in Tal Afar district of Nineveh province on the condition of anonymity said, "all the detainees, 15-35-years-old, are from the Syrian cities of Hasaka, Qamishli and Kobani, and some of them speak Kurdish only."
The driver is an Iraqi citizen, resident of Mosul, added the source, a commander of the 53rd Hussein Brigade of the Popular Mobilization Forces PMF (Al-Hashid al-Shabi).
"The arrest was based on intelligence information, as a tight ambush was set up by the intelligence of the 53rd Brigade of Hashid and the operation was successfully carried out. Measures were taken against them and transferred to the competent authorities."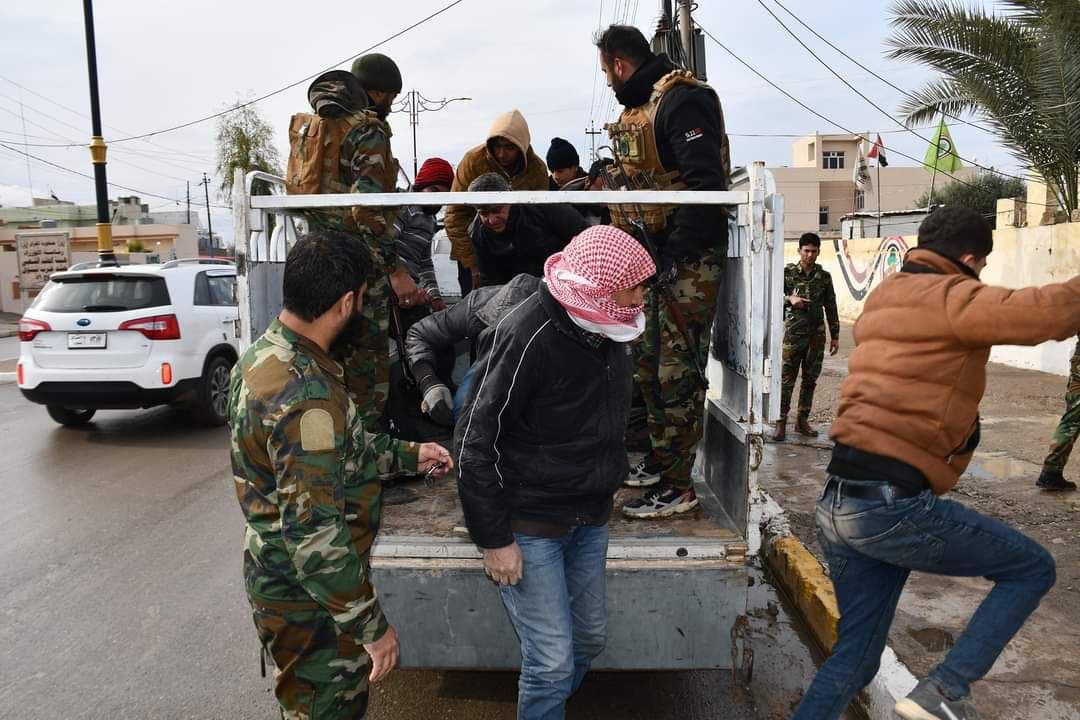 Less than 24 hours before the announcement of the arrest of the Syrian infiltrators, the commander of the 20th division of the Iraqi army, Brigadier General Atheer al-Rubaie, stated that the army had taken new measures on the border with Syria to prevent the infiltration of terrorists into the country.
"There is a continuous change of plans according to the field situation, and the last thing we accomplished was the opening of new points on the borders between Nineveh province and Syria to strengthen the blocking lines and prevent the infiltration of terrorists," Al-Rubaie told semi-official Iraqi News Agency INA on Saturday, February 19, 2022.
Mosul, center of Nineveh province, home to over four million Arabs, Kurds and Turkmens, Sunni and Shiite Muslims, Christians and Ezidis, was captured by the extremist militants of ISIS in 2014 up to 2017.
The atrocities by Daesh have mounted to genocide as thousands have been slaughtered, abducted and taken as sex slaves while millions where displaced.
The spokesman for the Commander-in-Chief of the Armed Forces, Major General Yahya Rasoul, affirmed on Saturday, "the Iraqi forces rely on themselves to fortify the borders and that the Prime Minister's instructions are clear that they must respond firmly to any attempts to attack Iraqi lands."
Following the attempt of ISIS militants detained in a prison in Syria to escape, the Iraqi Prime Minister and the Commander-in-Chief of the Armed Forces, Mustafa Al-Kadhimi, on January 26, 2022, paid a visit to the Iraqi-Syrian border strip area in Nineveh accompanied by the Ministers of Defense and Interior and a number of military and security leaders after.