Four women were waiting in front of the health center of Ashti camp for internally displaced persons IDPs in Arabat, east of Sulaymaniyah Northern Province. A man has brought his mother. Next to them, a young married couple are waiting for their turn. A woman was by herself while another was holding a baby.
All these people were at the health center of the camp but only three of them has decided to get Coronavirus vaccine and the rest were escorting them. A room is allocated for Covid-19 vaccination in the camp for IDPs, mainly from Salahaddin province, home to a Sunni Arab majority.
Two nurses come twice a week to administer Covid-19 vaccines to the camp opened in 20144 following the attacks of the Islamic State of Iraq and Syria ISIS which took large swathes f Iraq up to 2017.
Yazin Idirs, 27, is from Qamishlo in Syria. He lives in Arbat camp for IDPs and refugees but on March 27th he made to Ashti camp to get the jab.
"This is the first dose and hope it is useful for me and others as well. I do not trust the vaccine 100% but God willing it will be fine."
This is the first dose and hope it is useful for me and others
The Sulaymaniyah Health Department has allowed refugees of Arabt camp to vaccinate in Ashti IDP camp by showing their residence proof. However, Idris is still reluctant of the results.
"Some people have passed away though they were vaccinated," he wonders while the nurse responds that vaccination reduces not eliminates risk of death.
"I am not going to lie and say I believe in the vaccine. I am here because wherever I go, they ask for vaccination certificate." Idris lives in the camp since August 2013 and has not gone back home at all.
His wife, Jihan, 21, have received the first dose and contrary to Idris, she said she is confident the is helpful and the access to vaccination was smooth.
The Iraqi authorities and Kurdistan Regional Government KRG have decided to deny access of staff and visitors of state department unless vaccinated or hold a test proving they are not infected with Covid-19.
The camp vaccination outlet has opened doors last December and administer Covid vaccine twice a week for Ashti IDP camp and Arbat camp, opposite to each other.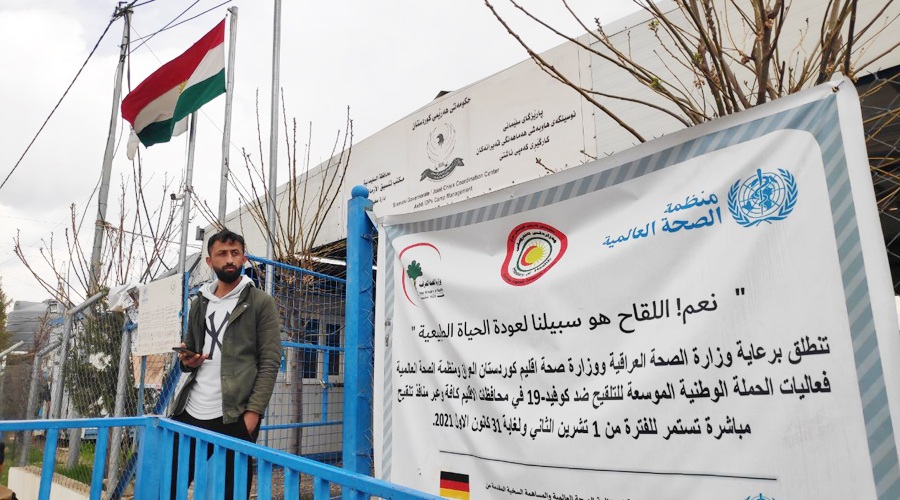 Iraq has joined the inoculation race last March when it has received 50,000 doses of Sinopharm vaccines via COVAX.  
There are 136,000 IDPs and over 32,000 refugees from Syria in Sulaymaniyah. Over 11,500 IDPs live in the four camps of of Ashti, Arabat, Qurato and Tazady. More than 9,500 refugees reside Arabat camp. Others live in towns, sub-districts and districts
Ashti camp for IDPs is home to 1,825 families, making about 9,000 people mainly from Salahaddin province with 160 Ezidi (Yazidi) families from Ninewa, on the borders with Syria.
Ahead of opening the vaccination outlet in the camp, the mobile teams of vaccination have launched a three-month campaign by visiting IDP and refugee camps and administered 4,000 doses of Pfizer-BionTech and Sinopharm vaccines.
"Now few people come to vaccinate," said Khalid Abubakir, one of the staff of the vaccination outlet who are available on Sundays and Tuesdays. "Every day only about 10 people come. Lat week, only 54 people were vaccinated in both camps while every day about 100 people have been vaccinated per day by the mobile teams."
Lat week, only 54 people were vaccinated in both camps while 100 people have been vaccinated per day by mobile teams
Iraq has administered over 10 million doses of Covid-19, including over 400,000 in Sulaymaniyah. The country has registered 23 million positive cases and over 25,000 deaths since the outbreak of the pandemic back in February 2020.
Some of the IDPs are willing to take the vaccines without any relctance.
"Thank God, I have taken both doses because it is good for my health and also for state offices," said Majid Sami, 19, a resident of Ashti camp since 2015 from Salahaddin.
The local supervisors of the camps are satisfied with the number of the vaccinated IDPs.
"IDPs and refugees can take vaccine in Arbat or Ashti camp. Some of them vaccinate at home in Salhaddin," said Pakhshan Tofiq, in charge of Ashti camp.
The awareness campaigns are ongoing to urge the IDPs to vaccinate as the representatives explain the process and mosque loudspeakers encourage them to vaccinate despite the low daily records.
Iraq has been registering few hundred cases per day in the last week and the public skip precautionary measures of masking and public distance.