"From now on, I will be able to write text messages, read signs and I will not need to ask anyone to show me a place," says Naam Rasho, 40-years-old Ezidi Internally Displaced Person IDP, stressing that this is not the end of her dreams.
"I will not miss this opportunity, I will become educated," said Rasho, writing on a whiteboard of a caravan turned into a mini school offering an initiative to eradicate illiteracy in Bajid Kandal camp for IDPs.
The literacy center was launched in 2021 by the Joint Help for Kurdistan JHK, a non-governmental organization NGO licensed by the Iraqi government. Currently, 58 displaced women are participating in the read and write course.
The camp is located in Sumel district, Dohuk northern province home for 8,411 people making 1,684 families, most of whom are Ezidis (Yezidis).
I will not miss this opportunity
"I am eager to learn, because when I was a child, they took me out of school. My family's living conditions were not good, thus now I don't want to miss this opportunity," says Rasho, who started the learning journey at that center this year.
Shingal, located 120 west of Mosul, on the border of Iraq-Syria, is home to the Ezidi minority targeted by Islamic State (IS) group in August 2014 and one of the disputed territories between the Iraqi Federal Government and the Kurdistan Regional Government and Erbil. 
Seized in August 2014 by the extremist militants of ISIS whom accused the Ezidis of being "heretics," Shingal has been the scene of tragedy: a genocidal campaign of killings, rape, abductions and enslavement, amounted to genocide lately acknowledged by parliaments of Belgium and Netherlands.
The surviving community fled to safer-heaven IDP camps on Shingal Mount and in the adjacent northern Kurdistan region where tens of thousands still live in tens of camps for IDP due to lack of security, stability and reconstruction of the infrastructure of the war-ravaged region.
"I organized my time to juggle my studies with housework," says Rasho who is about to pass the fourth and final semester.
"I have a great feeling for learning to read and write. My goal is to continue my education, that is my second dream."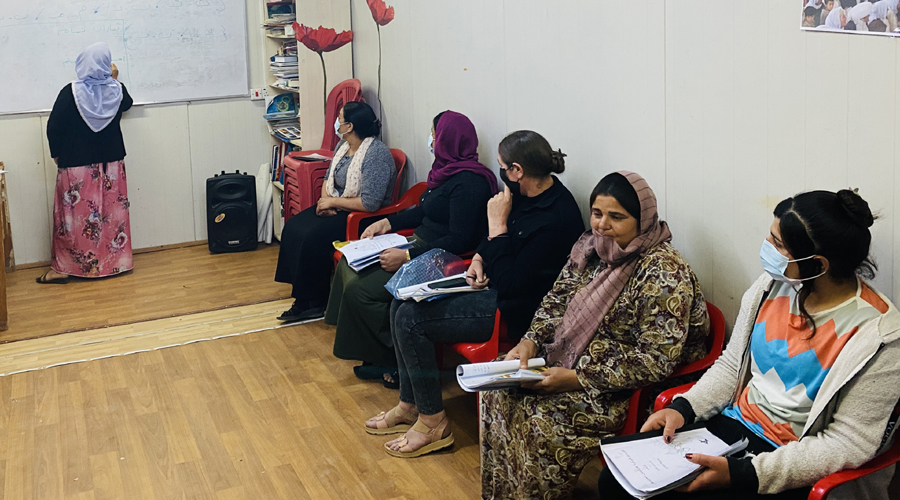 Participants of the literacy campaign must pass four semesters, each of three months, before receiving a certificate from the center that qualifies them to enroll in the sixth grade of primary school and continue studying at the camp school.
But in order for them to be accepted into the school, they must pass an exam whose questions are prepared by the school administration, a process under the supervision of the Iraqi Ministry of Education, according to Farouk Maho, the projects' supervisor of the JHK Swedish organization.
Among the participants, Nader Hussein, a woman in her forties says, "I am the eldest girl of my family. During my childhood, my parents forbade me from studying and I was busy with farming and housework, but when I learned about the opening of the literacy center, I registered and joined the class."
Now I can read and write, my dream has come true
 "Now I can read and write, my dream has come true," said Nader, a mother of eight children.
Motherhood and life in the IDP camp could not stop Hussein from continuing her studies.
"I have a great feeling because I am studying...My son-in-law helps me a lot in learning. I have also made new friends and I hope to pass the other stages."
The study in the center is in the Kurdish language, two days a week, sometimes interspersed with distance learning. The ages of the participants range from 20 to 50 years.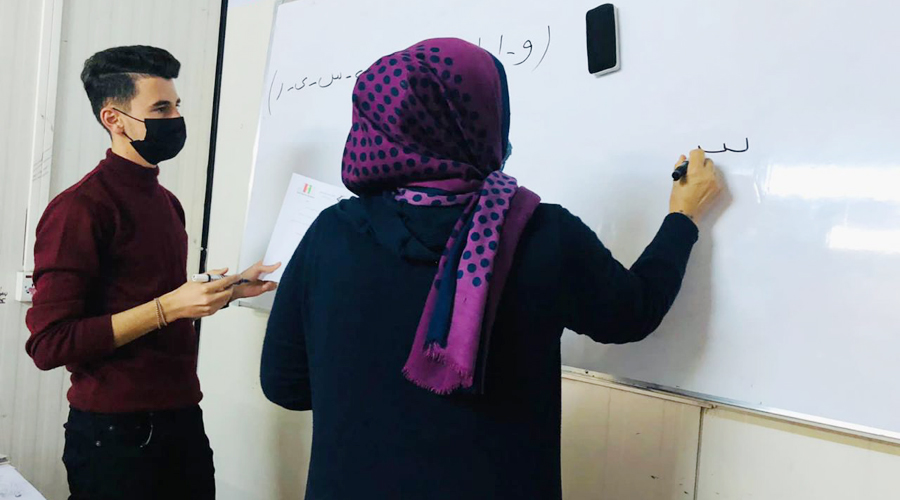 Thousands of Ezidi women, girls and kids were enslaved and taken as sex slaves by IS militants. KRG office for rescue of missing Ezidis says 6,417 Ezidis were enslaved by IS when it took over Shingal in 2014 and 2,700 of them have been brought to unknown destiny.
Fawaz Qassim, director and a teacher of the literacy center in Bajid Kandal, says, "They are given a certificate equivalent to grade five certificate, and in order to continue their studies in the sixth grade, they must enroll in the camp school of the Iraqi government."
"The participants who are old, come here only to learn how to read and write, and those who are young can continue their studies and enroll in grade six of primary school."
The literacy center is in need for help. "It's very hot in the summer and cold in the winter," says Qassim.
According to the statistics of the Joint Crisis Coordination Center of the Ministry of Interior of the Kurdistan regional Government KRG, there are more than 664,000 IDPs in the Kurdistan Region, most of them live under tents in 26 camps mainly in Dohuk, in addition to 261,000 refugees.
men were busy with work, their commitment was not satisfying
30% of the IDPs are Ezidis that have not returned to their hometowns for absence of security, stability, reconstruction and reparation, while Christians make 10%.
Farouk Maho, JHK project coordinator, says that the organization intended that the center would be for women and men as well, "but because men were busy with work, their commitment was not satisfying and a few of them attended, while women were more interested in learning so we decided to enroll only women in the first stage."
"30 participants received graduation certificates from our organization...Our main goal is to teach women to read and write," Farouk Hamo said.
Farouk Hamo explained that "those who wish to continue studying in the sixth grade of primary school, provided that their age is not too old."
The literacy center in Bajid Kandal camp is the only one in the 16 IDP camps in Dohuk province, hosting 133,846 IDPs. At present, there are no plans to open similar centers in other camps.