Mines and bombs left behind by Islamic State of Iraq and the Levant (ISIL) are still a source of concern and hesitation among the residents of Kirkuk province, especially the war-ravaged Hawija district, southwest of Kirkuk, and its vicnities.
These areas have been the scene of successive armed conflicts, the latest of which was the three-year war against ISIL, which left behind thousands of landmines, a source of threat to locals in general and those working as shepherds in particular.
ISIS fighters bombed most of the areas under their control before being abandoned by Iraqi forces, killing dozens of people since then.
We know how Daesh (ISIL) planted domestic artificial bombs and how to defuse it
Abdullah Obaidi, a resident of Hawija, told KirkukNow that ISIL IEDs "still threaten civilian life, especially shepherds." The latest incident occurred a few days ago when Anmar Abdulqadir, a child born in 2014, died by an IED.
On May 13, 2022, a bomb exploded between the villages of Alawiya and Shalakh in Riyadh district of Hawija.
"What makes us happy is that the bombs are locally made. When we find it, we know how they planted it and can defuse it. We recognize those that are ready to explode and often alert the police and security agencies to defuse it," Obaidi said.
More than 38 million square meters of land have been planted with mines in southern and southwestern parts of Kirkuk during the 2014-2017 ISIL war, while over 50% of the mined areas have been cleared, according to the Interior Ministry's Mine Affairs Directorate.
The locals are not satisfied with the campaigns of demining as they pay lives for the remnants of wars, they were never part of it.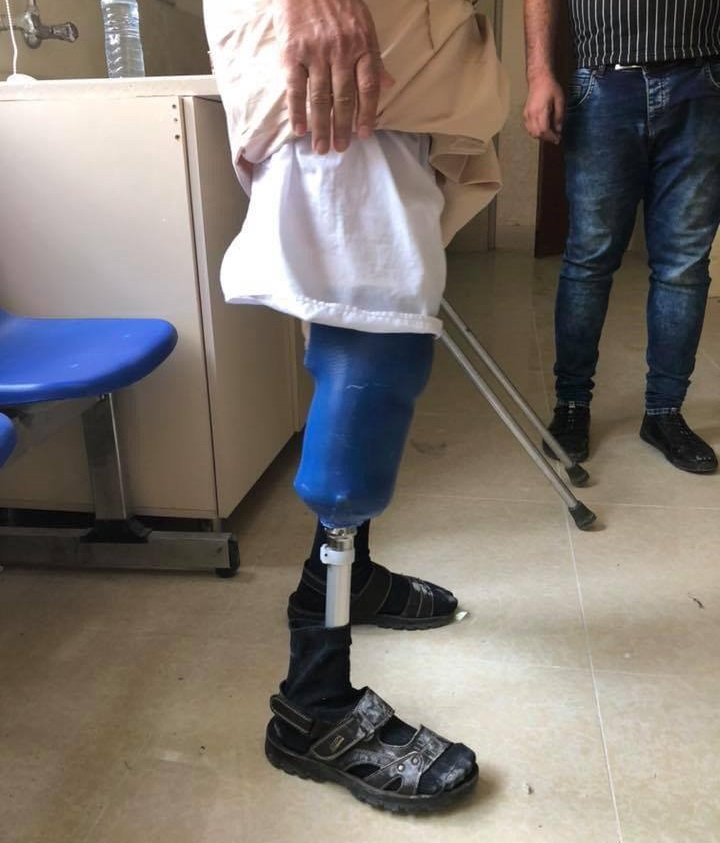 Azhar Qasim Alazawi, a disabled man, was sitting in front of the Kirkuk Center for the Rehabilitation of the Disabled to take his turn for physical therapy.
"We decided to leave Hawija for Kirkuk. Daesh knew which way people were going and bombed them. In February 2015, a bomb exploded between Riyadh district and Mount Hamrin, killing three members of my family. I was injured and three other people with us safely survived," Alazawi recalls his story.
The three dead members of Alazawi's family were buried at the site and he was hospitalized in Kirkuk.
He believes that the areas around Kirkuk still need a lot of work to clear and remove mines and explosives remnants of ISIS and military operations, because "there is still a real threat to the people as security forces has found dozens of bombs and explosives."
There are about 13,000 people with disabilities in Kirkuk
"More than 15 deaths have been recorded since the recapture of these areas," Alazawi said.
According to KirkukNow follow ups, ISIL planted bombs along the border between the areas it has controlled and other areas of Kirkuk to prevent citizens from fleeing to government-controlled areas.
In June 2014, ISIL took control of a third of Kirkuk province, including Hawjiya district, 55 k, southwest Kirkuk, and its sub-districts of Zab, Rashad, Abbasi, Riyadh and Multaqa until it was recaptured by the Iraqi forces in October 2017.
Kazim Ali, director of the Kirkuk Center for the Rehabilitation of the Disabled, told KirkukNow that there are about 13,000 disabled people in Kirkuk province due to war, explosives and congenital disabilities.
"We provide them with wheelchairs, crutches, rehab and physical therapy."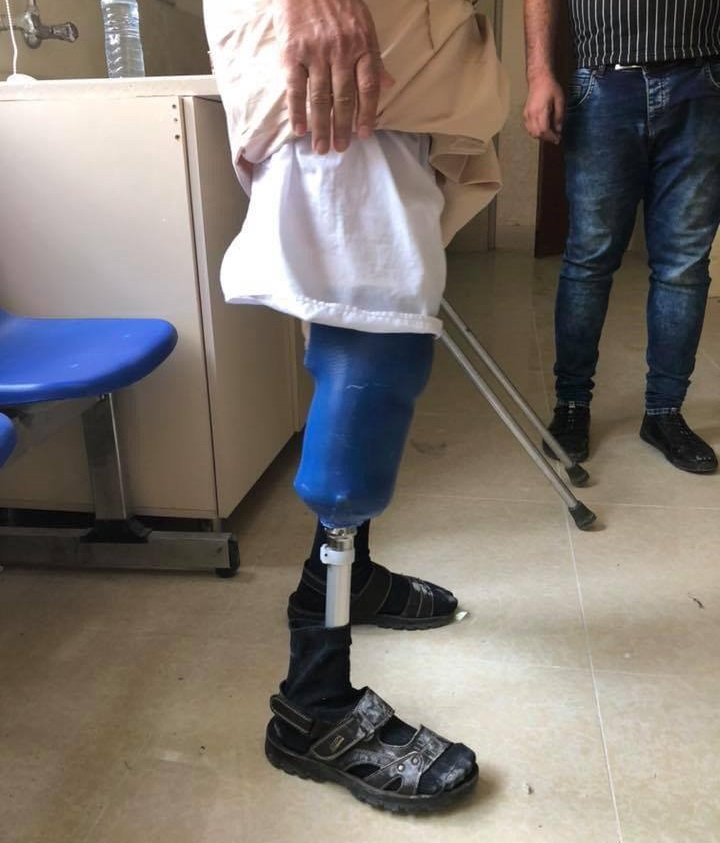 According to the United Nations' UN figures released in December 2021, 100 children were killed or injured by landmines and explosive remnants in Iraq in the first nine months of last year.
Abdullah Hamid, a resident of Kirkuk, was sitting with Alazawi in front of the Kirkuk Center for the Rehabilitation of the Disabled awaiting physical threapy session, but his story was different. He is a victim of the eight-year war between Iraq and Iran (1980-1988).
"I fought on several fronts, but the battle of the Jassim River in southern Iraq was decisive. Most of the soldiers with us were killed."
He has been receiving training and natural treatment ever since.
He told KirkukNow that there are several categories of people with disabilities in Kirkuk but all "suffer from a lack of financial support and government supervision. We participate in the activities of the center once in a while, which provides us with basic and simple supervision."
This year we have recovered 306 bombs and explosives
The process of clearing mines and explosives in Kirkuk and other parts of Iraq, especially Mosul, Diyala and Anbar, has been going on for several years and no deadline has been set for the complete clearance of these areas.
Brigadier Salih Mohammed, director of Kirkuk civil defense, said the department has removed and treated thousands of explosives remnants of ISIS.
"This year we have been able to remove 306 bombs and explosives through 13 missions," he added.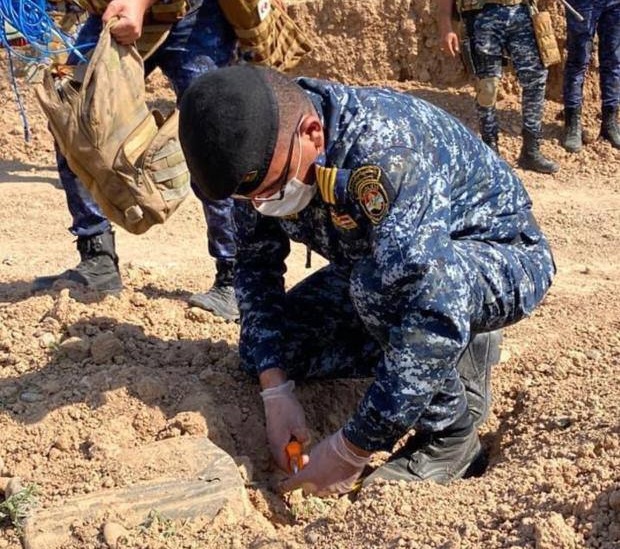 Ahmad Khurshid, a member of the Hawija local council, suspended in 2019, said, giving that Hawija district was the last stronghold of ​​ISIS in Iraq, "tens of civilians were killed by the IEDs Daesh left behind."
"These areas" need to be cleared to prevent explosion of IEDs targeting shepherds and locals returning to the controlled areas of Hawija," Khurshid says.
According to a report by Humanity & Inclusion, an international non-governmental supports people with disabilities and vulnerable populations, Iraq is estimated to be one of the most heavily Explosive Ordnance (EO) contaminated countries in the world. A total of 3,225 square km of land is reported to be contaminated, putting 8.5 million people at risk.
The report also said that the cost of mine clearance in some areas, especially those with debris such as Mosul, cost six times double of mine clearance in other areas, thus Iraq must provide about $180 million annually for mine clearance, including $50 million for Ninewa province.