Iraqi farmers are suffering from a wave of dust that they fear will destroy their growing crops, including fruits and vegetables.
Another wave of dust has hit several Iraqi provinces since Friday, May 20, just four days after an intense wave, frightening Iraqi farmers who are worried about losing their crops this year, appealing to the government for aids.
Nazim Abid Hurmiz, a Christian farmer in al-Qush sub-district of the Ninewa Plain, said he has planted 20 acres of land with tomatoes and less area with cucumbers this year. "Dust settles on the leaves of plants, which stops growth," he said.
Dust has stopped the growth of my crop, while the ripening season of tomatoes and cucumbers has affected the crops
As a temporary solution, to prevent the dust from burning the farm and its crops, Hurmiz sprays the rain-fed farm with water to remove the dust in absence of rainfall.
"Unfortunately, the government is not helping us, or showing us the necessary ways, because of the dust, some farmers say half of our crops are likely to be destroyed.
According to the regional agriculture department, 90,000 acres of land in al-Qush have been turned into wheat, more than vegetables and fruits, including cucumbers and tomatoes.
Tomatoes, cucumbers, zucchini and eggplant are among the crops that ripen in June, while the frequent sandstorms will have a direct impact on flowers and crops now that the dust has resumed.
According to the Iraqi Meteorological Agency, the dust will last two to three days and will be intense in some areas.
At least 4,000 people were admitted to hospitals needing treatment for respiratory difficulties in the last wave of almost 20 sandstorms hit Iraq in 2022, which has been battered by soil degradation, intense droughts and low rainfall linked to climate change.
Early May sandstorm led to the death of one person, while more than 5,000 cases had to be hospitalized for respiratory problems.
On Monday, a thick cloud of dust enveloped in an orange glow and blanketed many other cities including the Shiite shrine city of Najaf to the south, and Sulaymaniyah in the northern Kurdish autonomous region, which caused shutdowns of state departments, schools and airports.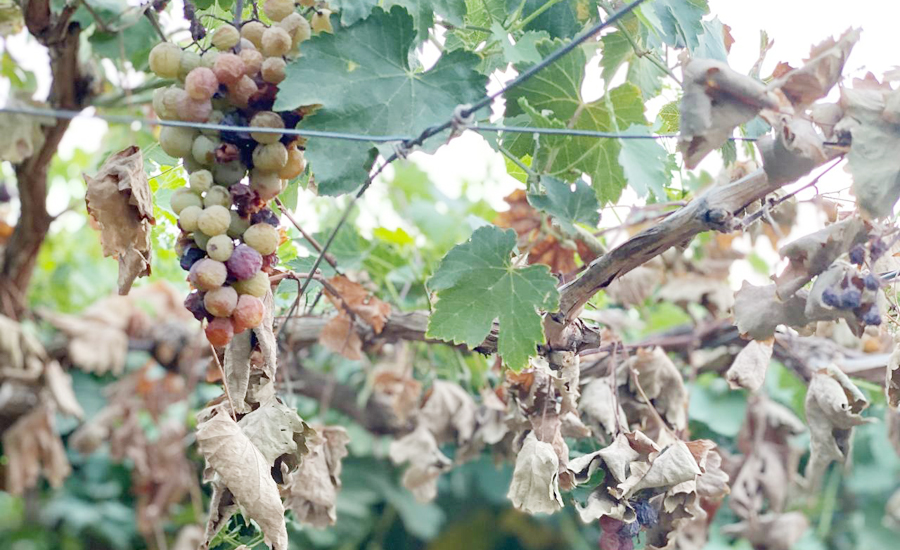 Shakir Yahya, director of the plantation department in Bashiqa sub-district, said the lack of rainfall is the main cause of dust, which has a direct impact on agricultural crops, including fruits and vegetables, especially tomatoes and cucumbers.
"Even if the dust does not destroy the crop, it will affect the quality of the crop and reduce the harvest," Yahya affirmed.
"When dust settles on the leaves and stems of plants, it prevents photosynthesis from working properly, which prevents plants from absorbing carbon dioxide properly and exchanging air, which affects plant growth," said Yahya, a graduate of the College of Agriculture.
"Dust causes the spread and growth of bacteria and germs on crops and destroys it."
Dust causes the spread and growth of bacteria and germs on crops and destroys it
"The government is not taking any steps. The government can at least supply farmers with water sprayers to remove dust from their crops after the dust storm, or provide antibacterial drugs," he said.
Lack of rainfall and dust have directly affected agricultural production in some areas, for example, last year, when the amount of rainfall in Shingal (Sinjar) district in Ninewa province was also low, but per dunam of wheat yielded 800 to 900 kilograms, but this year only 600 kilograms is expected according to Barakat Isa, director of the agriculture department in Sinuny sub-district of Shingal.
This year, 640 dunams of land have been cultivated with wheat and barley in Sinjar district.
"There have been three dust storms in this area this year. We have not yet estimated this year's crop, but I am sure it will be much lower than last year," Issa beleives.
Video: harvest of wheat in Daquq district of Kirkuk, irrigated by farmers instead of rainwater due to poor rainfall.
Halkawt Mohammed, a farmer in Dukhurmatu district of Salahaddin province, said that last year's problem was drought, but this year it is drought and dust together.
"The dust in Salahaddin was very intense, directly burned the leaves of strawberries, tomatoes and cucumbers and damaged the crops, for example, the cucumber crop has dried up and rotted making it useless while wheat and barley turned to dust," Mohammed desperately said.
Dust burned the leaves of strawberries, tomatoes and cucumbers and damaged the crops
In general, rainfed grain across the province were futile except those that the farmers irrigated it in different ways.
"We have no choice. The government has no plans and does not help the farmers."
In addition to vegetables and grains, the dust has directly affected fruits, as Mohammed Ezzat farmer in Khanaqin district of Diyala province stressed.
He has 101 acres of agricultural land, most of it are orchards, including dates.
"My dates have sooty mold; a honeydew liquid spread over leaves and indicates that the tree is infected with the disease. Every year, the disease hits the fruit and the dates dry up," Ezzat said.
"We are really waiting for God's mercy, the government is not doing anything," Mohammed said.
We are really waiting for God's mercy, the government is not doing anything
There are no official statistics on the damage caused by dust to agriculture and horticulture in Iraq or different provinces, but signs of the damage can already be seen in agricultural products.
"No survey has been conducted to determine the damage, but we know that the dust will cause great damage to farmers, and there is no indication that farmers will be compensated," said Ali Omar, deputy governor of Ninewa.
"This is the most important issue you are working on. The issue is dangerous and the government and parliament deserve to act," Gharib Ahmad, a member of the Iraqi parliament's agriculture committee, told KirkukNow.
"We are discussing this issue with some MPs. We want to urgently include the issue of dust damage in parliamentary discussions, in order to force the government to take action and be aware of this dangerous issue," Ahmad added.
"This threat comes at a time when the political situation in Iraq is distorted and there is no plan to prevent the damage caused by dust and climate change."