Some visit it as a religious shrine, others for prayer, but there are many who want Imam Ali ibn al-Ḥusayn (Zain al-Abidin), fourth of the 12th Shiite Muslim Imams, to heal their sicknesses and bring them to their destination; The shrine of Zain al-Abdin in Daquq district is gradually becoming a place of revelation of the secrets and intentions of the beggars of the area.
Zain al-Abdin was born in Medina in 38 AH and lived for 57 years. His grave is in Medina. One of the symbolic shrines of Zain al-Abdin in Daquq, south of Kirkuk is visited annually by Shiites from all over Iraq, but now visitors to the shrine not only visit it as a religious place, but also see the role of healing the sick. This has made it a place not only visited by Shiites, but also by others.
"It used to be a religious shrine, but now most of those who visit it express their secrets there. They want Imam Zain al-Abdin to heal their patients and take them to their shrine," said Hassan Abdul-Razzaq, a resident of Daquq district.
It used to be a religious shrine, but now most of those who visit it express their secrets and intentions there
 Hussein, the third Shia Imam, was killed in battle at Karbala in the 7th Century on 10th of Muharram, Ashura. His martyrdom is considered a defining event in the split between Sunnis and Shia Muslims.
Every year, millions of Shia Muslim pilgrims gather in the holly city of Karbala at the climax of a key festival, over 40 days this year, for the ceremony of Arbaeen, 40th day of Imam Hussein martyrdom, the biggest annual gathering of Shia Muslims worldwide.
"As residents of Daquq, we come to Imam Zain al-Abdin whenever we have problems. People come even from the north and south," Abdul-Razzaq added.
Kirkuk, August 2022: Preparations for Ashura ceremony at Zain al-Abdin shrine in Daquq. Video by Mohammed Almas
This is normal for Abdul Razzaq who deeply believes in the power of the Imams, but Karzan Nuri, is critical of such beliefs.
"You can visit it as a historical place, but not to pray. Why don't we pray to God? What authority does an imam have to heal a patient and give a boy to his beloved?"
During the month of Muharram, Shiites flock to the shrine of Zain al-Abdin and crowds are expected to attend the ceremonies.
The shrine is located one kilometer east of Daquq district and dates back to 750 years ago during the Ottoman period.
"According to tradition, the Ottoman king Ahmad Pasha built the shrine when his forces went to Baghdad and stayed there overnight. Locals say it was the resting place of Imam Zain al-Abdin," said Sayyid Najmadin Imamli, a Shiite Turkmen historian. "He has promised to build a shrine for him when he returns."
Now the shrine of Zain al-Abdin belongs to all communities and everyone visits it.
After the fall of the Ba'ath regime in 2003, it was renovated by the decision of former Iraqi President Jalal Talabani and is currently supervised by the Shiite endowment.
"Now the shrine of Zain al-Abdin belongs to all communities and everyone visits it. No sect or religion can occupy it," he added.
Now the shrine of Zain al-Abdin belongs to all communities and everyone visits it
"Now the shrine of Zain al-Abidin is for all communities who visit it and no any religion or sect can monopolize it," said Nawzad Kaka'i.
"Some of those who visit him tell their secrets to Imam Zain al-Abdin," added Kaka'i who believes that Imam Zain al-Abdin is buried there and it is not only a memorial.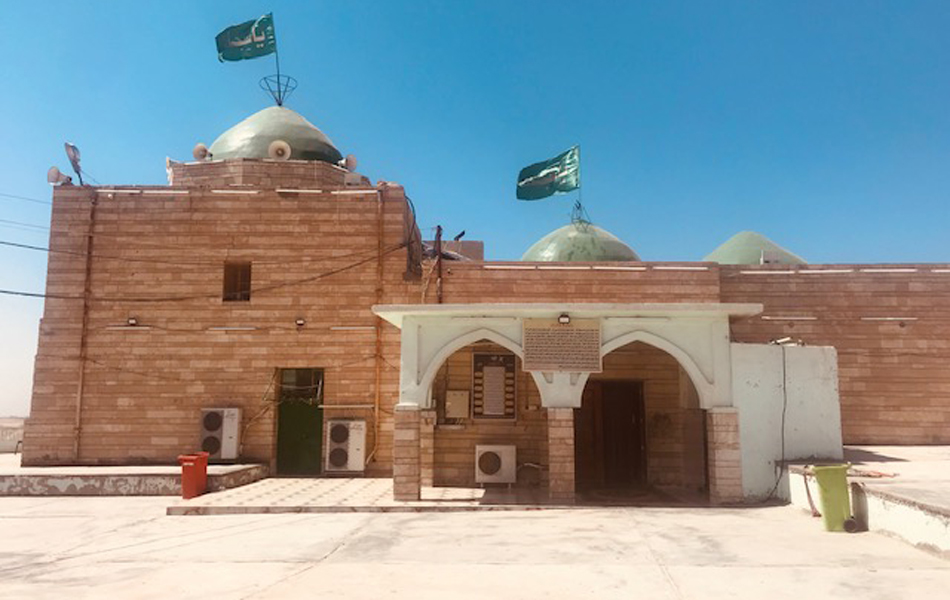 "Many people believe that this is his grave. If it is his grave, it should be known that prayers are only with God, not a religious shrine and the grave of sheikhs and mullahs," Nuri argues.
However, the shrine is expecting a large-scale ceremony this month, and for this purpose, a special operations regiment of the pro-Shiite Popular Mobilization Forces PMF known in Arabic as Al-Hashid al-Shaabi was deployed around the village and the shrine to protect the shrine and celebrate this holy occasion by Shiite followers.
The Day of Ashura is marked by Muslims as a whole, but for Shia Muslims it is a major religious commemoration of Hussein martyrdom at Karbala. It is marked with mourning rituals and passion plays re-enacting the martyrdom.
Shia Muslim men and women dressed in black also parade through the streets, slapping their chests and chanting. Some Shia men seek to emulate the suffering of Hussein by beating themselves with chains or cutting their foreheads with knives until blood streams.