"Even now, when I pass by Rehab, I got thrilled by the excitement we got there in my childhood," said Diler Nuri, a taxi driver in Kirkuk.
He talks about memories from nearly three decades ago; When he used to go to Rehab amusement park in Kirkuk with his family, especially on Fridays. Rehab is now in ruins and a pile of garbage.
From the main street of Kirkuk's Orzdi, the amusement park is clearly visible. It is located on the Khasay River near the Citadel and Khabat Bridge, on the east side of the city.
KirkukNow's reporter visited Rehab and saw nothing but ruins. All the children's toys are broken and have been covered with dust nd piles of garbage for years. The Ferris wheels is occasionally spinning by the wind.
I wish Rehab would be renovated so that we could take our children there to play
Nuri often walks the streets near Rehab. "Whenever I see the game city, I go back to the early 1990s, when we played there in the summer. The Ferris wheel and the wings were fun."
There, after playing, Diler would take money from his father to buy drinks and sandwich.
"I wish Rehab would be renovated so that we could take our children to play and have fun like we used to," said Diler, father of two children.
Not only the games, even the greenery is now dry and a large area is full of garbage, there is not even a chair to sit and rest, and there is no light at night.
Rehab which means wide lands in arabic was built in the early 1980s on an area of ​​about four acres of land. It was built on municipal land by an investor and remained open until 2005.
The oil rich city of Kirkuk, Iraq's second largest oil reserves, is ethnically a mixed province of 1.7 million Arabs, Kurds, and Turkmens. It has long been at the center of disputes between Baghdad and the autonomous Kurdistan Regional Government KRG.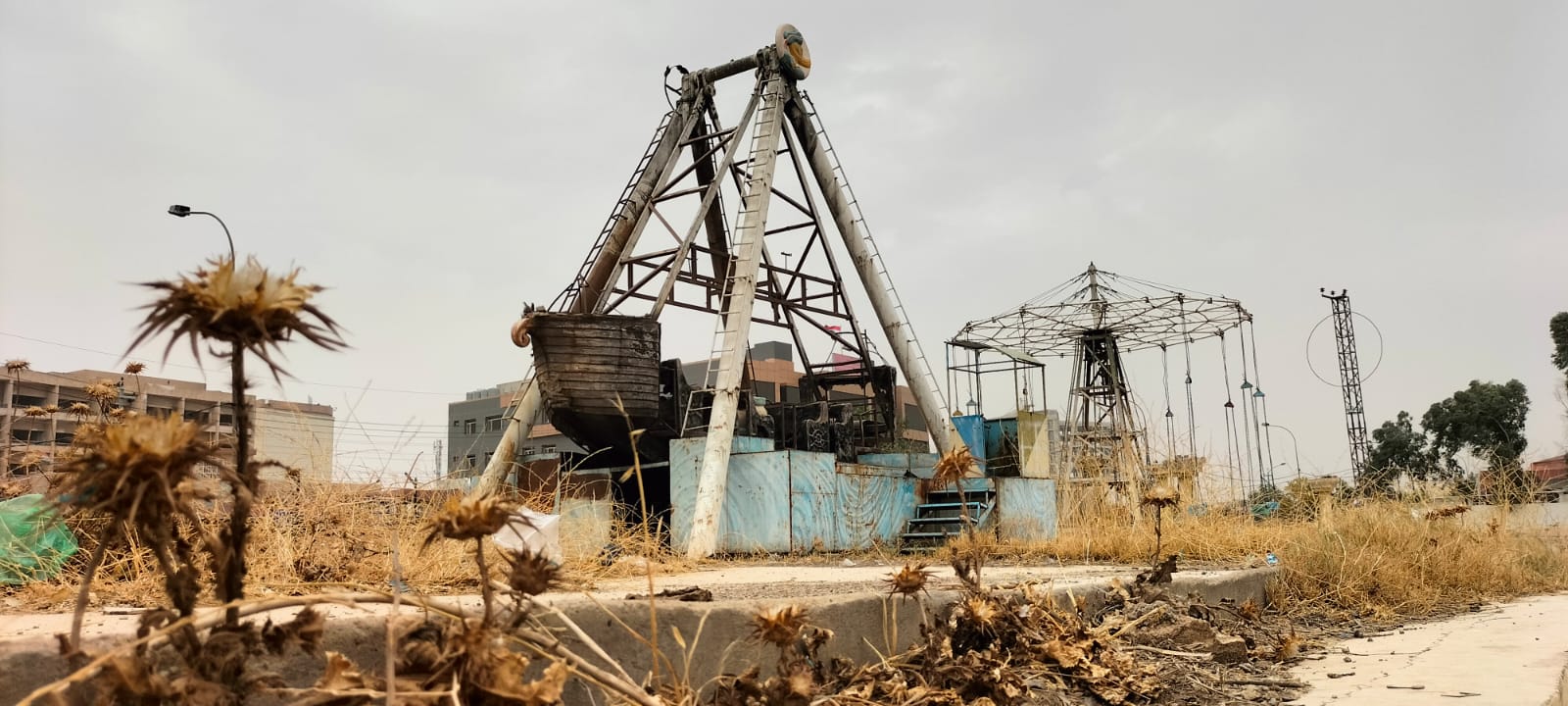 "I remember going to Rehab in 1998. We had just been deported from Kirkuk to Erbil & were back in a short viist. We were at my aunt's house when her husband said he would take us to Rehab if we stay calm," said Chiro Ahmad, a 32-year-old resident of Kirkuk.
"There was even a doctors' room. My brother fell and broke his head while playing. They treated him there," Chiro told KirkukNow.
Sitar Jabari, an expert on Kirkuk history, told KirkukNow that the place was on Khasa and the weather was relatively cool. Many people visited the park to play and watch the animals.
Anyone who wants to repair the rehab can get it from the municipality
"They performed theater and there was live music on Thursdays. People went with their families to listen to songs and sometimes people from outside Kirkuk came," Jabari added.
Part of the fence is still standing, with no guards or even workers. Anyone can enter the park. Sometimes, especially during the day, it becomes a shelter for homeless people.
In a part of the park located on the main street, some people are engaged in car tent making and other businesses.
"Rehab used to be the only place that had both games and a zoo. There were bears, monkeys and foxes. It was a very crowded place," said Shaban Mohammed, 38, who owns a store for electrical appliances opposite to the park.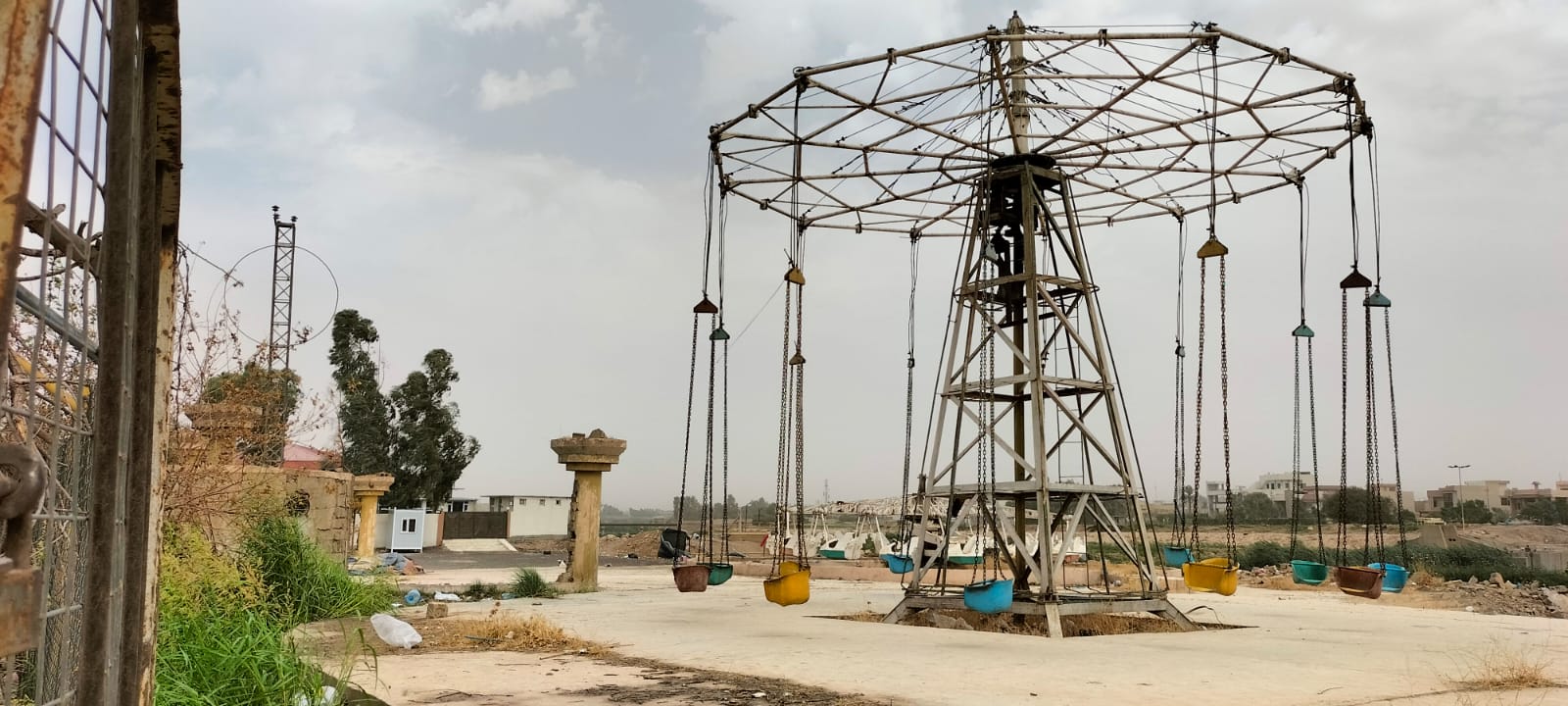 An official in the Kirkuk municipality anonymously told Kirkuk Now that anyone who wants to repair the Rehab playground can rent it from the municipality for one to three years according to legal and administrative procedures.
The trees and greenery in Rehab Park have dried up, are almost completely destroyed, and workers and municipal teams never clean up the dust.
The municipal source said cleaning the park is not the responsibility of the municipality, the process will be the responsibility of anyone who wants to take the project for restoration and management, at a public auction.
There are three other parks in Kirkuk, including the playground, all belong to the private sector. In addition, there are about 200 public parks in the city, only a few of which cover more than a few acres and the rest are smaller.