Both Rabia Abbas and Fouad Rahman's projects start together, two different projects, but with one goal; Saving the environment and climate of Khanaqin, southeast of Baghdad on the borders with Iran, by removing plastic and planting trees in their place.
In Rahman's factory, about two tons of discarded plastic are crushed daily and prevented from mixing with the environment, while waste in general, including plastic are either buried underground or burned.
The burning of the plastic has prompted Abbas to volunteer, collect donations and plant over 1,000 trees to reduce the negative effects of waste and its processing.
The amount of greenery in Khanaqin has decreased by more than 4% during the past six years, which further increases the risk of air pollution, due to toxic smoke from daily burning of garbage, half of which is plastic, according to the mayor.
"One of the main goals is to reduce the amount of plastic thrown away in the streets of the city, to benefit the environment and protect it," said Rahman.
A major goal is to reduce the amount of plastic scattered on the streets of the city
Khanaqin's garbage dump, which produces about 150 tons of garbage daily, is only one kilometer away from residential areas.
"By planting trees, we want the city people to breathe fresh air because the smoke from burning garbage goes into the sky," says Dr. Abbas.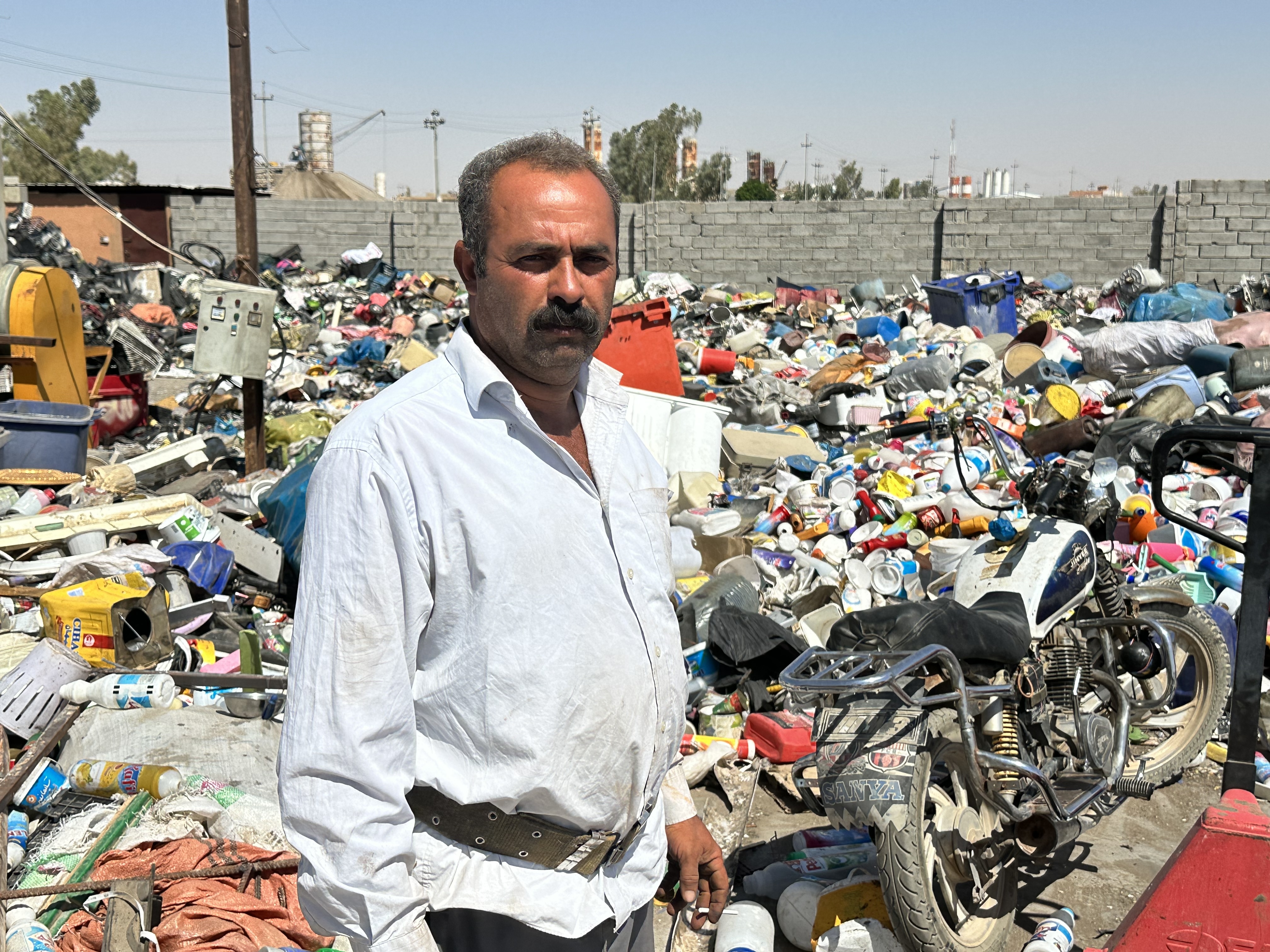 Abbas, in her 40s, is an ultrasound specialist who has her own clinic and volunteers two days a week in a government hospital. She is also a civil activist in Khanaqin and has been working for a greener environment for nearly two years.
The population of Khanaqin and its surrounding villages is 135,000, mostly in 36 neighborhoods. The district is a disputed area in northeastern Diyala province, 180 km north of Baghdad.
Both projects are still new; Practical steps have been taken since the first quarter of this year (2023), the results are not yet clear, but "great hopes" are built on them.
An environment free of toxins
A plastic grinding plant in Khanaqin has become a promising start to thinking about building recycling.
Rahman, 48, has been operating his factory in the village of Amin Bapir in northern Khanaqin for six months after he and a friend considered setting it up to find work and livelihood before the project became a major goal of environmental protection.
"We decided to set up the first plastic grinding factory, so some of the plastic used to be collected and transported to other cities." Fuad decides to sell his car and uses the money to install the factory.
Initially, they received several hundred kilograms of plastic daily, usually mixed with other waste and could not be separated.
"Now one of the goals of the work is to protect the environment and we don't want it to be just a profit-making project," Rahman confidently said.
Now one of the goals of the work is to protect the environment and we don't want it to be just a profit-making project
There are two municipalities in Khanaqin; One belongs to the federal government and the other belongs to the Kurdistan Regional Government KRG, both collect about 150 tons of garbage daily in the city and adjacent villages, according to statistics from both to (KirkukNow), which estimate that about half of this quantity is plastic waste.
Soran Ali, the head of Khanaqin municipality, a state-body in charge of city tidiness including garbage collection, said they have a contract with a company and collect about 80 tons of garbage daily, 50% of which is plastic.
Ali said the figures about plastic waste are not accurate as they have no system to determine the type and amount of garbage and it's all estimates.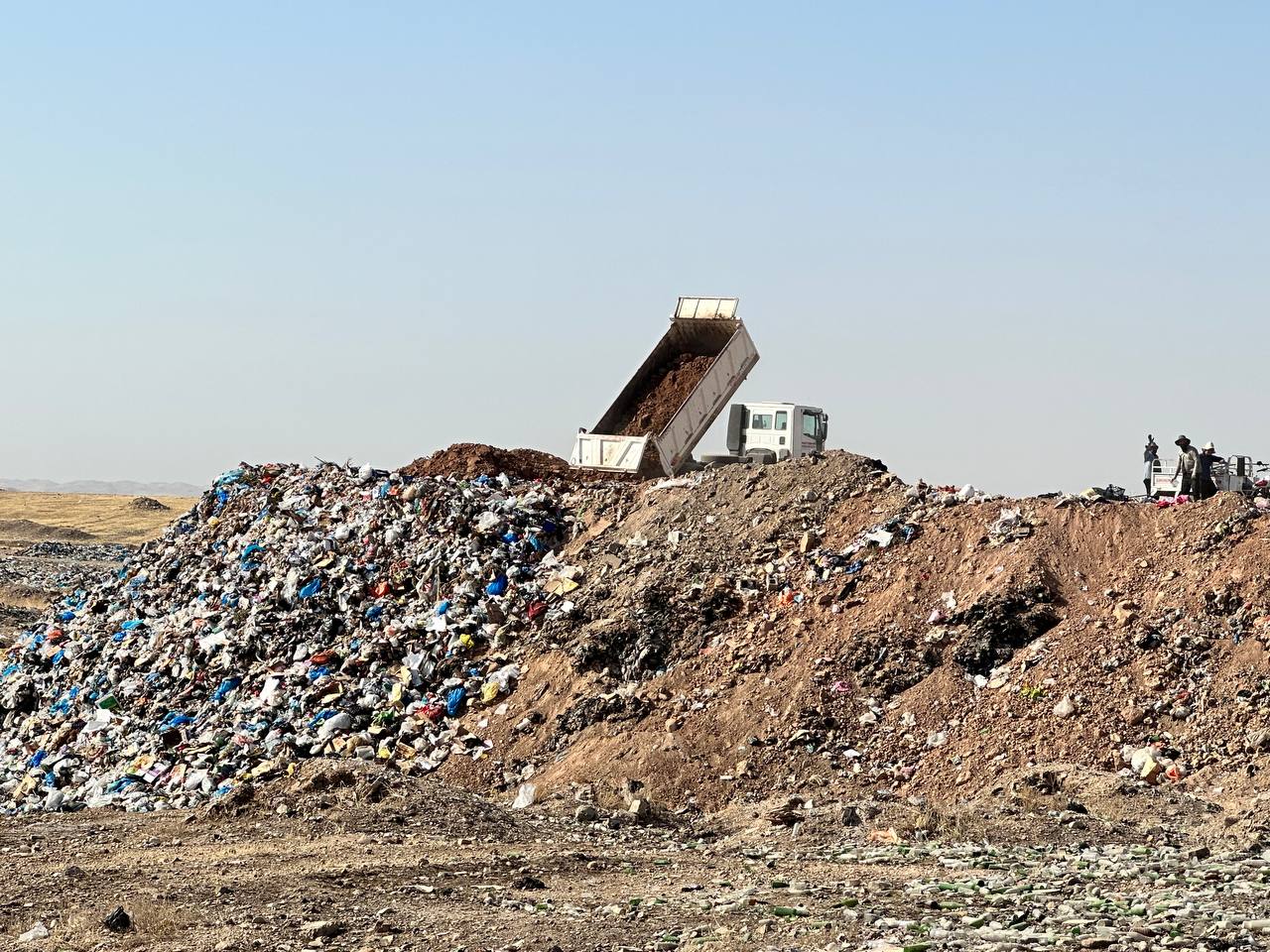 Abbas, an environmental activist in Khanaqin, said the environmental situation in the city is getting worse day by day, due to the burning of garbage collection dumping as part of daily collected garbage is burnt, which generates dirty smoke into the skies of Khanaqin, since the dumping area is very close to the neighborhoods.
She also explained that environmental awareness has led them to launch a greening campaign, "because most of the garbage is plastic and have a direct impact on human health." She believes that practical steps should be taken to remove garbage dumps far from residential areas.
Plastic is harmful to human health; It affects fertilization, hormonal and brain activity More than 400 million tons of plastic are produced annually worldwide, half of which are disposable and less than 10% are recycled, according to the United Nations.
"People use a lot of plastic, such as water bottles, disposable table mats and dishes, with nylon and many other materials that they use daily once and then throw away," he said Iron and other substances in the garbage are burned.
Several goals in one step
Rahman's factory currently processes about two tons of plastic waste daily.
"We grind two tons of plastic waste daily, which has a good impact on the environment of our city and the rate of plastic disposal has decreased by two tons daily," he added. They work and earn their living from this job."
From morning till sunset, workers look for plastic in the streets and garbage dumps, buying each kilogram for 150 to 300 Iraqi dinars IQD (USD 10 to 20 cents), the price varies according to the type of plastic, after grinding, the product is sold weekly to traders and factories in other cities and provinces.
Several other workers collect plastic for the factory daily from different parts of Khanaqin.
Sherzad Aghamrad, one of the workers who collects plastic from the Khanaqin landfill and takes it to Rahman's factory, said, "Every day 10 to 15 workers in this area collect plastic and sell it to the plastic grinding factory and make 20,000 dinars a day."
The United Nations is trying to reduce global plastic pollution by 80% by 2040 in three ways.
The first is the use of reusable materials, such as glass water bottles. The second is recycling materials in factories, as Fuad Rahman does, to reuse plastics in manufacturing. The third is changing industrial materials such using paper or any other substance that is capable of decomposition to replace plastic and nylon.
These dangers of plastic have led Rabia Abbas to plant 1,000 trees this year, with the help and coordination of volunteer groups and activists, after buying the trees with donations.
"We have felt the dangers and consequences of climate change, so we have planted trees in public places and neighborhoods to provide clean breath for the people of our city," Abbas said. Because Khanaqin has dozens of gardens."
We have felt the dangers and consequences of climate change, so we have planted trees in public places and neighborhoods
There are about 2,500,000 acres of orchards in Khanaqin, most of which are Palm trees.
Amer Haider, a resident of Bakhtiari neighborhood, said, "Before the tree planting campaigns, there was little greenery in this neighborhood, but now there are many trees and greenery by the efforts of Dr. Rabia."
According to international standards, the green area should be above 15% for residential areas.
The head of municipality said the greenery rate in Khanaqin has decreased as until 2017, the greenery rate was 17.2% but now it has dropped to about 13% due to the destruction of orchards.
There are plans to remove the landfill but it takes time and decision-making, so as a short-term strategy, they want the police to monitor so that no one burns garbage that smoke goes into the sky of cities and villages, he added.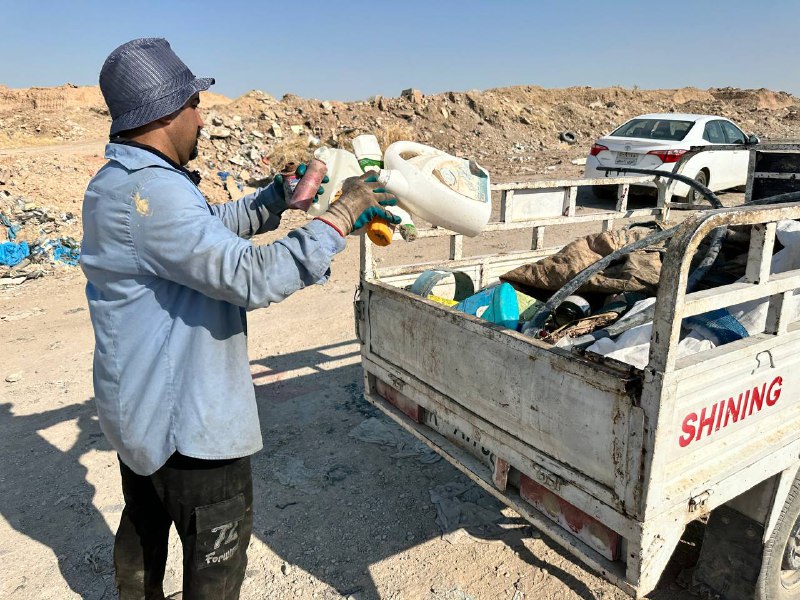 The two projects of Fuad and Rabia are small steps toward a brighter horizon for the environment of Khanaqin as relevant local authorities push for bigger projects.
A source in the Khanaqin environment department, who was not authorized to speak to the media, said: "There is a large amount of plastic and has a bad impact on the environment, which takes a long time to decompose in the soil so we encourage plastic grinding factory, recycling or any other project that benefits the environment."
He also said that they are trying to close the current landfill in Khanaqin, but due to the security situation, the decision to remove the area has not been implemented. The source did not elaborate on the reason.
Environment Protection: Further resources to be invested
Planting trees is the first step and then it needs sustainability as it requires watering and care, all of which are beyond efforts of Abbas and her volunteer colleagues.
Another problem is the depletion of water resources due to the consequences of climate change, which the United Nations says Iraq is the fifth most affected by these changes.
"There needs to be cooperation to increase greenery and expand this campaign," Abbas believes.
Several fires occurred in the palm orchards of Khanaqin every year, some of which are suspected to be deliberate and in order to replace it with commercial or residential units.
Rahman faces the same problems as the greening campaign because his factory cannot afford to reduce the amount of plastic. He needs more labor and equipment, as well as electricity, to save the environment.
He has the idea of setting up a recycling plant to recycle plastic granuels into new products instead of selling it to other factories, but there are many obstacles. "Previously, crushed plastic was exported aborad for higher prices but now it is banned."
However, Rahman's concerns are mainly due to the lack of assistance from any government or organization. "If there is support and assistance, I can expand my business and daily process about 10 tons of plastic from the environment."
This story was produced as part of Our Voices project by Internews.