In the last two weeks, 237 families whom last year returned to their hometown of Shingal in Mosul have decided to return to camps due to instability, poor utilities and unemployment.
The counter displacement wave is intensifying in the last weeks as the town approaches commemoration of August 2014 atrocities by the so-called Islamic State in Iraq and Syria ISIS against the war-torn vulnerable community.
"A week ago, we left out hometown to Duhok because of instable security, poor public services and unemployment," said Qasim Khudeda, a local of Shingal.
Khudeda is father of six children. He lived in an IDP camp from 2014 up to December 2020 when he decided to leave the IDP camp forever to home and never thought he can stay for only few months.
"We were happy to go back home because we were fed up of life in camp. Everybody likes to live in his home town but life was very difficult for us. I was jobless and penniless so we are displaced again."
There are about 665,000 Internally Displace Persons IDP in Iraqi Kurdistan region out of which 30% are Ezidis, shows the figures by the Joint Crisis Coordination Center JCC of Kurdistan Regional Government's KRG ministry of interior.
Shingal, located 120 west of Mosul, on the border of Iraq-Syria, is home to the Ezidi minority targeted by Islamic State (IS) group in August 2014 and one of the disputed territories between Baghdad and Erbil. 
Seized in August 2014 by ISIS militants whom accused the Ezidis of being "heretics," Shingal has been the scene of tragedy: a genocidal campaign of killings, rape, abductions and enslavement, amounted to genocide lately acknowledged by parliaments of Belgium and Netherlands.
The surviving community fled to safer-heaven IDP camps on Shingal Mount and in the adjacent northern Kurdistan region where tens of thousands still live in tens of camps for Internally Displaced Person IDP.
Thousands of Ezidi women, girls and kids were enslaved and taken as sex slaves. KRG office for rescue of missing Ezidis says 6,417 Ezidis were enslaved by IS when it took over Shingal in 2014 and 2,700 of them have been brought to unknown destiny.
Media officer of JCC, Karwan Zaki, confirmed to KirkukNow since July 13th, 237 families from Shingal has returned to Duhok.
"Shingal people say they let home due to lack of safety and jobs in their region."
JCC says last May, 2,553 IDPs have returned home in middle and south of Iraq while 2,230 returned to the KRG camps.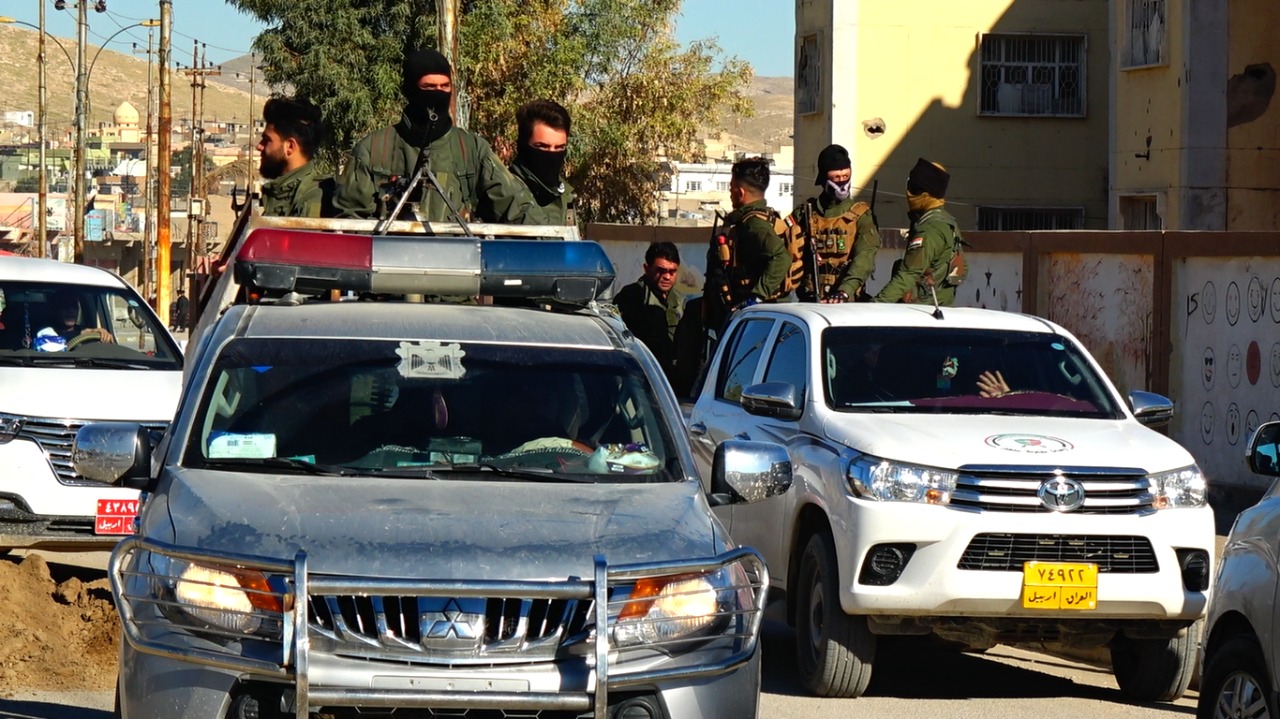 The complex texture of the security and administrative situation in Shingal is an aftermath of ISIS reign In the Ezidi-dominant region of Shingal, only three thousand square km, Baghdad federal and Erbil regional governments compete to establish their rule: three local administrations want to administer the district, and eight different security forces are deployed, some loyal to Baghdad, others to Erbil.
The militant groups are Iran-backed Shiite Popular Mobilization Forces PMF, Shingal Protection Units (YBSh) and Ezidkhan Asayish which are pro-PKK (Kurdistan Workers' Party fighting Turkey and controlling some regions in Iraq), local Police, Iraqi army, Ezidkhan Peshmerga and KRG's Peshmerga (Kurdish fighter).
In October 2020, the Iraqi federal government and the Kurdistan Regional Government KRG signed the Shingal Agreement aimed to reorganize the security and administrative dossiers in the district, under which local police, national security and intelligence run the security of the town, while the Iraqi army forces would be deployed in the suburbs.
However, security forces reject the claims of instability as they have received no complaints.
"The security situation in Shingal is well and we have no problems as the security services control the situation and no family filed a complaint for being threatened or being under pressure," said Natiq Alo Ahmed, spokesman of Shingal police command.
The fight against ISIS has come to end on November 13, 2013 yet it has caused severe damage to thousands of houses, and the infrastructure of the town which still misses proper power and water supply, adequate schools and standard healthcare.
Out of half million population, over 350,000 Ezidis fled Shingal to Kurdistan region and Shingal Mount. About 100,000 migrated to Europe, USA, Canada and Australia and over 100,000 are still living under tents in tens of camps for Internally Displaced Persons IDP in the adjacent Kurdish region.