Both departments in charge of preparation and installation of public state signs in Kirkuk deny modification of the scripts for the new signs and deleting Kurdish scripts.
Kirkuk municipality and traffic police, both directors from Kurdish community, denied involvement in installation of public signs on December 2nd in Kirkuk streets which were removed following protests on social media about deleting Kurdish language as the signs were in Arabic and English only.
"The technical mistake happened because we were told addresses will be clearer for drivers if it is in one language, a matter we rejected," Faraidoun Adel Zanagana, head of Kirkuk municipality and member of Patriotic Union of Kurdistan PUK, told Kirkuk TV.
Zangana said both the municipality and traffic police are in charge of preparation and installation of the signs.
 Colonel Mohammed Ismael Ali, known as Colonel Shiwan, director of Kirkuk traffic police, said they were not involved in the process.
"Replacing the signs had nothing to do with us. It is the duty of Kirkuk municipality and administration," Ali affirmed. "The excuse of the contractor was that they had no Kurdish font."
The excuse of the contractor was that they had no Kurdish font
According to Iraqi constitution, Arabic and Kurdish are the main languages of the country beside Syriac and Turkmen which can be used by local administrations.
The project of replacing public signs in Kirkuk is dated back to 2019 yet it has been implemented recently.
The local administration of Kirkuk, following the protests, declared in a statement all languages of Arabic, Kurdish, Turkmen and Syriac should be included in all signs of state departments, roads and bridges in Kirkuk province.
"Any one acts opposite to those recommendations, is sabotage act for which the security forces should penalize those people and parties," the statement added.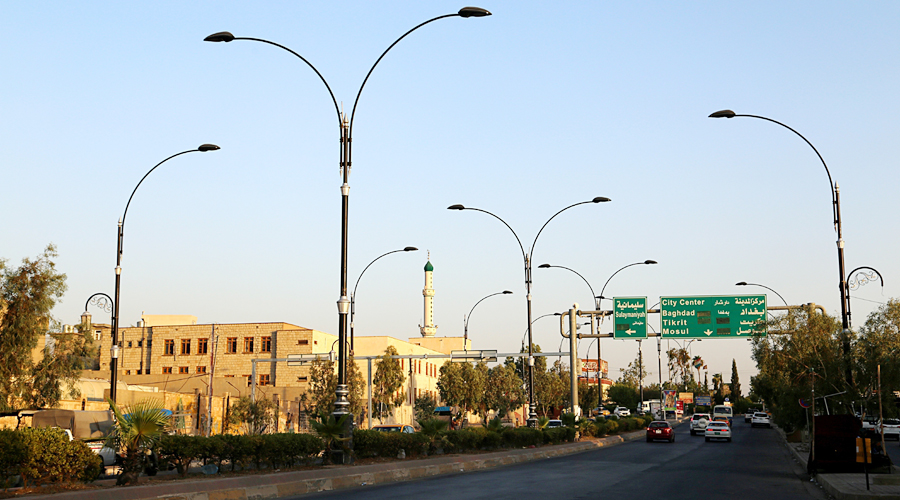 Kirkuk local officials said they have no idea what was the main motive for modifying the signs.
Rebwar Taha, leader member of PUK, one of the leading Kurdish parties in Kurdistan region and Kirkuk, said it is the duty of engineering department of Kirkuk municipality "but so far we don't know what was the reason behind deleting Kurdish and they said they will investigate."
Zangana said Kirkuk municipality has not decided to delete Kurdish language in new signs. "Kirkuk traffic engineering said it was a technical mistake because they had no Kurdish font. They say it is to be written in big Arabic font than in three languages but small fonts, unreadable easily."
After the protests, Kirkuk municipality has decided to remove the signs and include Kurdish then install it again.
Kirkuk, Iraq's second largest reserves, located 238 kilometers north of Baghdad, is an ethnically mixed province for 1,7 million Kurds, Arabs, and Turkmens. It has long been at the center of disputes between Baghdad and the Erbil.
Kurds were holding the senior position in Kirkuk including governor of Kirkuk up to October 2017 Iraqi troops ousted the Kurdish forces following declaration of victory over the Islamic State in Iraq and Levant ISIL.
Back in 2018, the Turkmens and Arabs each have got each three seats of the 12 parliamentary seats of Kirkuk and the rest six has gone to the PUK, one of the key Kurdish parties and stakeholder of the Iraqi Kurdistan Regional Government KRG along with its decades' ally-competitor Kurdistan Democratic Party KDP which boycotted elections in Kirkuk.
In October 10th general elections, Turkmen candidates have won two seats while the Arabs have got four seats. PUK has lost half of its seats, 2 to KDP and one for the New Generation. 
Currently, Iraqi army, local and federal police, Brigade 61 of Special Forces along with Shiite paramilitary of Popular Mobilization Forces PMF, are under Kirkuk joint operations' command, an umbrella for the security forces running the security of Kirkuk province.