Three residents of camps for internally displaced persons IDPs dies in the last week, in three separate death, murder and suicide cases in one week.
Suicide cases were remarkably high among IDPs and even returnees of th Ezidi community whom severely suffer post truma of the atrocities by the extremist militants of Islamic State in Iraqi and Syria ISIS.
There are about 665,000 Internally Displace Persons IDP in Iraqi Kurdistan region out of which 30% are Ezidis (Yazidis), shows the figures by the Joint Crisis Coordination Center JCC of Kurdistan Regional Government's KRG ministry of interior.
Shingal, located 120 west of Mosul, on the border of Iraq-Syria, is home to the Ezidi minority targeted by ISIS in August 2014 and one of the disputed territories between Baghdad and Erbil. 
Seized in August 2014 by ISIS militants whom accused the Ezidis of being "heretics," Shingal has been the scene of tragedy: a genocidal campaign of killings, rape, abductions and enslavement, amounted to genocide lately acknowledged by parliaments of Belgium and Netherlands.
The surviving community fled to safer-heaven IDP camps on Shingal Mount and in the adjacent northern Kurdistan region where tens of thousands still live in tens of camps for Internally Displaced Person IDP.
Thousands of Ezidi women, girls and kids were enslaved and taken as sex slaves. KRG office for rescue of missing Ezidis says 6,417 Ezidis were enslaved by IS when it took over Shingal in 2014 and 2,700 of them have been brought to unknown destiny.
As the war-torn region has not been reconstructed, lack of security, stability, poor infrastructure and inadequate job opportunities makes it hard for the vulnerable community to return home.
Last year, the Iraqi government has decided to form a committee to investigate cases of suicide escalating among the Ezidi IDPs yet so far, no report has been revealed.
A statistic by Shingal mayor office shows 250 cases of suicide has been registered in the IDP camps since 2014, most of the cases were women.
On March 4th, a drunk man shot his wife dead in Khanky IDP camp following verbal quarrel, few hours later the man was arrested by the security forces, said Pir Alo Kachal, camp manger.
The lady was 40-years-old. The suspect has two wives and was arrested on March 5th for murder charges, Kachal added.
KHanky IDP camp in Simel district of Duhok Northern province is home to 14,000 IDPs, majority Ezidis.
Ezidism is an old Middle Eastern monotheistic ethnic religion and is based on belief in one God who created the world and entrusted it into the care of seven Holy Beings, known as Angels. The ouststanding among these angels is Melek Taus who is the leader and has authority over the world. 
Most Ezidis speak Kurmanji, one of the two main Kurdish dialects, however, most Ezidis consider Ezidism a religious not ethnic identity.
Over several years, many Iraqi families have suffered with mental health scars caused by past conflicts and economic hostilities, World Health Organization WHO said in a report about suicide in Iraq published in December 2020.
Various factors could contribute to rates of suicide in Iraq, WHO found out, including intimate partner problems, physical health conditions, financial challenges, and legal issues. Others are personal or family experiences of violence, for instance, child abuse, neglect, or family history of suicide and broader community conditions, such as high crime rates and violence.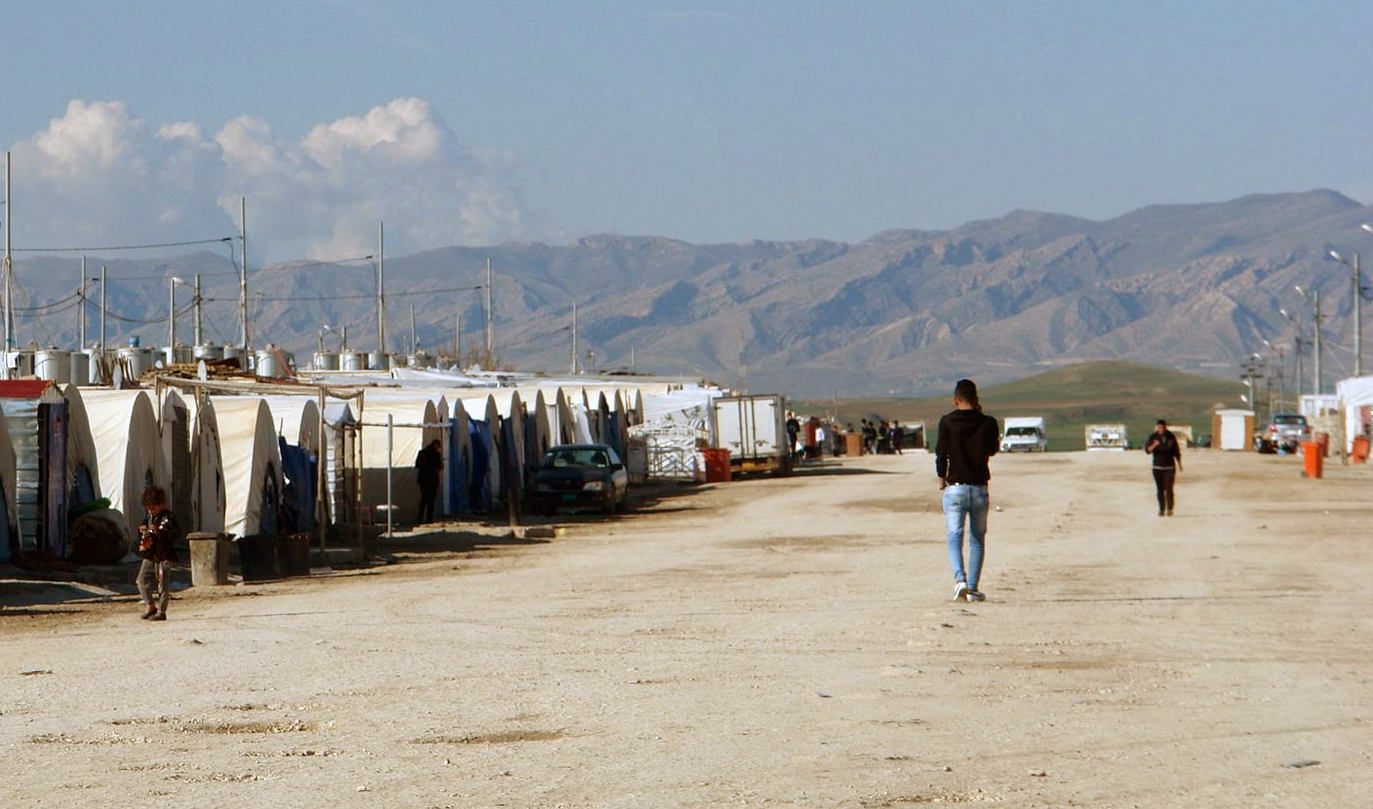 On March 1st, a resident of Qadia IDP camp self-immolated. He passed away following three days hospitalization in Duhok hospital.
Basil Dakhil Samir was living by himself following death of his mother and problems with his father who lives in the same camp, a resident of the camp close to Samir's family anonymously told KirkukNow.
Amir Adel, media officer of Zakho hospital said they have no special department for burns so the case was transferred to Duhok hospital "yet the whereabouts of the incident were not clear and we are not aware of the investigations.
Releavnt authorities have not commented so far about the incident. Qadia IDP camp is home for 12,000 Ezidi IDPs.
Early November, two young Ezidi boy and girl and a teenager girl were found dead the war-ravaged Shingal (Sinjar) region of Ninewa province in 72 hours, in two suicide and a suspected murder case, local officials said.
The remarkable surge of suicide among the Internally Displaced People IDPs was an essential topic of a conference held on March 29th in Duhok Northern Province by NGOs, state officials and relevant authorities.
Participants in a poll conducted by an NGO regarding the factors and motives for suicide commitment and attempts said that 20% of their relatives at least once thought about putting an end to their life.
On February 28, a young resident of Bajit Kandala camp, where over 8,000 Ezidi IDPs live, was found dead at home by hanging himself, relatives said.
Rundak Shivan was student of class 9 and has one sister and three brothers. His father works as a farmer.
"He looked always happy and never seen him sad or depressed. He had dinner with family and when they went to bed, he hung himself," said Jalal Mohammed, nephew of Shivan.
Local police are investigating the case. KirkukNow has contacted the security forces to comment about the cases but they have not responded.
"The IDPs are fed up with life in camp for eight years. They can not return home due to lack of security, reconstruction, employment and aids so some resort to sucide," Kachal concluded.