Christian community of Kirkuk have smooth access to Coronavirus vaccines except hundreds of families living in one of the new neighborhoods at the suburbs of Kirkuk where no vaccination outlet is based due to "the small number of the residents."
The local administration has fairly administered Covid jabs to all the residents of the multi-ethnic province of Kirkuk, home to 1.7 million Kurds, Arabs and Turkmens, Muslims, Kaka'is and Christians.
However, about 150 Christian families out of 900 families living in Sekanian neighborhood, 10 km northeast center of Kirkuk, complain about lack of a vaccination center, forcing them and their neighbors to resort to adjacent neighborhoods downtown.
Samir Hanna, a Christian resident of Sekanian, said many Christinas live in that neighborhood "yet no access to vaccine. A month ago, I wanted to vaccinate my mum so went to the health center but they said they do not administer Covid jab and have to go downtown."
"My mother is old and can't travel yet still I had to take her to Arafa health center," 10 km drive neighborhood.
My mother is old and can't travel yet still I had to take her to Arafa health center
"If you don't have a car, you have to pay 10,000 IQD," said Hanna who called on Kirkuk health department to locate a Covid vaccination outlet at their neighborhood.
Kirkuk health department has 90 vaccination centers all over the province beside mobile teams to rural areas.
Kirkuk has registered 1,489 death cases up to March 25th, due to total of about 90,000 covid infections since the outbreak of the pandemic back in February 2020, figures by the Iraqi ministry of health show.
Samira Gorgis, 70-year-old housewife, said she has received the first dose of Covid jab by a mobile team at home "but for the second dose I had to go to Arafa."
Samira asked for better health services as she lives by herself and all her sons and daughters are abroad.
Local health officials assured they are ready to provide mobile teams at request of residents yet they cannot allocate a vaccination outlet for few numbers of families.
Dr. Nabil Hamdi Boushnaq, director general of Kirkuk health office, said vaccination outlets are distributed per population. "it is true that there're is no vaccination outlet in Sekanian because there is a small number of families there."
"Six people should be available in order to open a pack of Covid jabs so in neighborhoods like Sekanian, this number is not available at the same time. Once six people agree, they can contact us and we will send a mobile team."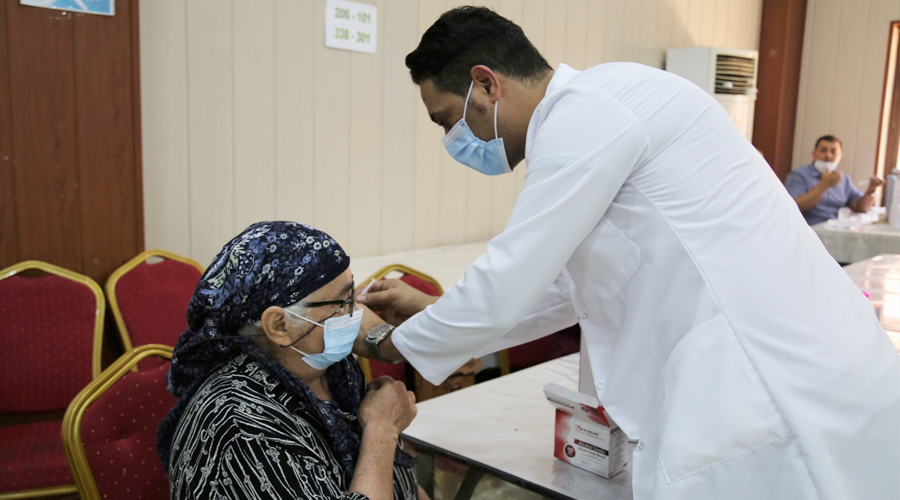 Kirkuk health provides vaccines of AstraZenica, Pfizer-BionTech and Senopharm. Over 700,000 doses of Covid jabs have been administered in Kirkuk up today: 345,000 Pfizer, 58,000 Sinopharm and 300 only AstraZenica.
According to the figures of the high commission for human rights in Iraq, the Christian community in Iraq was estimated at 1.5 million people ahead of 2003 war which has dropped to 250,000 mostly based in Iraqi Kurdistan region, Kirkuk, Ninewa and Baghdad.  
We don't want to open a pack for one person then throw it away
About 14 Christian sects live in Iraq since the first centuries of the religion as Chaldean, Syriac, Assyrian and Armenian. Christianity ranks the second religion after Islam in Iraq and it is a recognized religion by Iraqi constitution and their official language is Syriac.
They were mainly living in the provinces of Baghdad, Nineveh, Duhok, Basra, Kirkuk and Erbil.
Christians whom suffered decades of discrimination and persecution since fall of Saddam regimes in 2003 amid the majority Muslim population and its leaders, have found north of Iraq a safe haven till the pop up of So-called Islamic State ISIS extremist militant group whom stormed the country and took control over one third of Iraqi territories.
Vaccination campaign in Kirkuk's the charity clinic of cathedral of Sacred heart. Vidoe by KirkukNow
Boushnaq confirmed they provide fair access to vaccination, overlooking religious and sectarian affiliations "but we don't want to open a pack for one person and throw it."
Demand on vaccination has lately dropped as Boushnaq affirmed that only 69 doses were administered last Friday, March 25th.
Some local charity associations provide subsidized health services and launch awareness and vaccination campaign in coordination with local health department to all Kirkuki communities including Wahat al-Hanan (Oasis of Passion).
Dina Hadad, head of Wahat al-Hanan, said last year they launched a vaccination campaign in cooperation with health department for all Kirkuk components as the infections were sky high.
"9000 people were vaccinated on Fridays at the Cathedral of the Sacred Heart."
Dana Ghazi, representative of Sekanian residents, addressed Kirkuk health department to open a vaccination outlet in their neighborhood yet the response was negative due to the low number of the residents.
"Why during the electoral campaigns, they opened vaccination outlets in some neighborhoods which had less residents than us? There should be nearby outlets in order to urge people to vaccinate."