Two suicide attackers with explosive belt detonated in front of the Intelligence and Anti-terrorism headquarter, in which four members, including an officer, were injured.
The suicide attacks took place today, Tuesday, April 28, 2020, at 10:45 a.m. in front of the main gate of the Intelligence and Anti-terrorism headquarter located in Al Qadisya neighborhood.
Jawdat Asafi, media officer of unit 16 of Popular Mobilization Forces (PMF), said "gunmen with explosive belts intended to attack the intelligence (the headquarter) and when the forces confronted him, the gunmen detonated."
In the explosion, four members of the Intelligence headquarter, including an officer, were wounded.
The PMF officer stated that they had prior intelligence on the attack and the security forces were aware of it.
Meanwhile, the War Media Cell published that "a terrorist detonated himself at the at the entrance to the Kirkuk Intelligence and Anti-Terrorism Directorate, resulting in the injury of two members."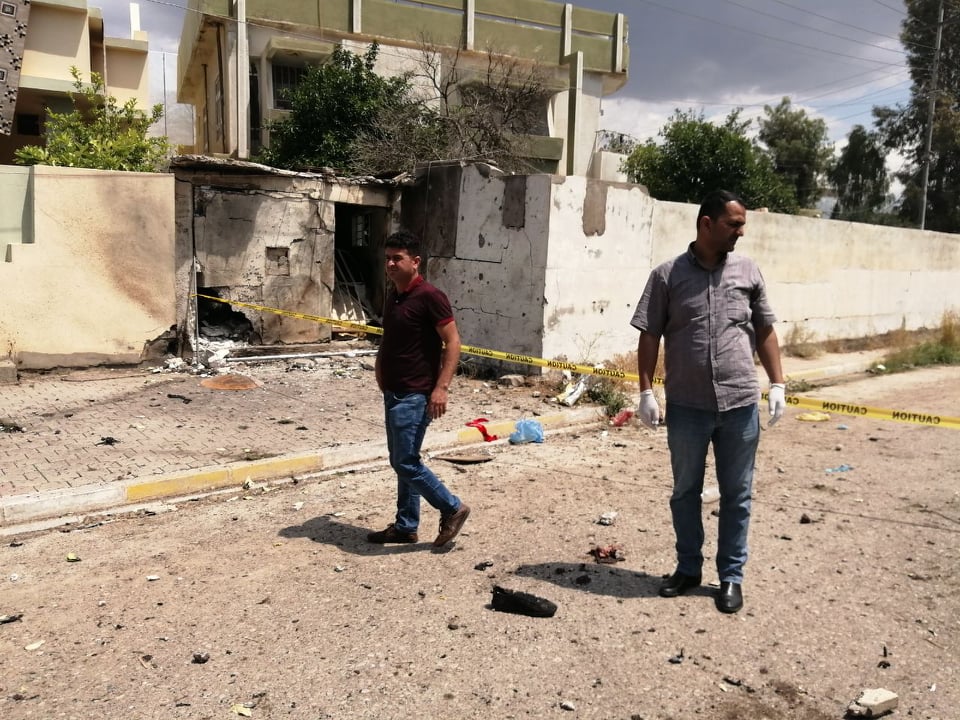 Three persons were involved in the attack, one of them managed to escape.
A source from the intelligence told KirkukNow that the three persons were on a BMW car, two of them dropped off and headed toward the entrance of the intelligence headquarter, one of them detonated himself, and the other one's explosive belt exploded as a result of the security members shooting, but the driver fled.
"It had been ten days since we had intelligence on a similar attack, whose aim was to release numerous detainees."
Kirkuk High Security Committee, in a statement, "ensures people about the stability of the situation and chasing Daesh (Islamic State members)."
The statement mentions that the security force had prior intelligence on the suicide attackers to enter the intelligence headquarter, that is why they confronted him and their plan failed.
This incident happened after a series of attacks in the different areas of Kirkuk province.
On Friday, April 24, the Special 61 Unit arrested three suspects charged with terrorism law, who planned to carry out attacks in the first day of Ramada in the city of Kirkuk, according to a source.
Earlier, on April 16, a group of IS sleep cells were arrested and their weapons were confiscated in the security searches of the forces in three neighborhoods of the city, more than a source confirmed to KirkukNow.
The security forces in Kirkuk have been on alert for two months due to the security situation and the enforcement of a curfew aimed at preventing the spread of coronavirus.
The special 61 unit belonging prime minister, as well as police forces, are in charge of the security apparatus of the city of Kirkuk. The other areas of the province are secured by Iraqi Security Forces (ISF), Popular Mobilization Forces, and Iraqi Federal Police, which are all under the chain of command of the Joint Operation Room.