In a narrow street on the right bank of Mosul, a wooden cross appears from a height; as you get closer, it turns out that it is not a church, but an old, ordinary collapsed house.
The design of the door of the house shows an old architectural model, through which a narrow corridor leads into a large square courtyard in the middle of the house overlooking the doors and windows of several rooms, where it becomes clear that the house is built in a classic oriental style.
The walls, windows and interiors of the house show the damage cause by the devastating war against the extremist militants of the Islamic State of Iraq and Syria ISIS since 2014 to 2017, which left thousands killed, millions displaced.
The cross is placed in the upper part of the main door of the house, attached to a fixed piece of iron, which may have been previously carved into the cement to install the television aerial.
The cross can only be seen on the roof of the house in the narrow streets of Mosul's Sa'a neighborhood, in a war-torn area where some of the debris of collapsed buildings and houses have not been recovered.
Majdi Hamid Naqash, 45, lives by himself in that house. He is a native Christian of the neighborhood and after returning from displacement, he raised a cross to tell the world that "Christians will stay in their country and will not leave it."
According to the United Nations and the Iraqi government, six million people have been displaced since June 10, mostly from Ninewa. The ethnic and religious minorities of Mosul and most of Ninewa province faced killings, kidnappings, violence and displacement.
According to statistics previously published by KirkukNow, nearly 250,000 houses have been damaged or destroyed in Mosul due to the fight against ISIL, some of which need $30,000 to rebuild and repair.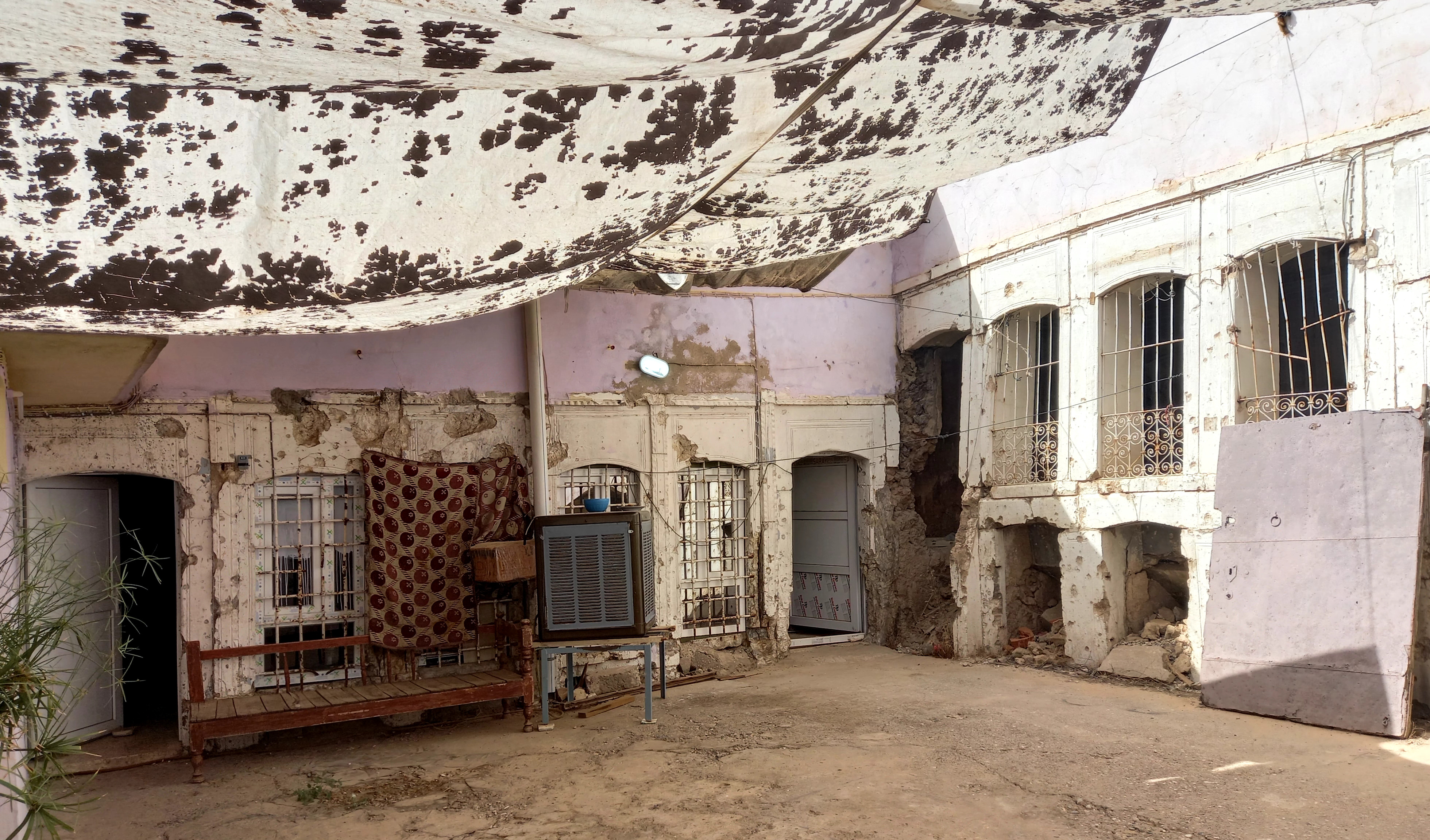 Naqash told KirkukNow that when he returned to Sa'a neighborhood and his collapsed house, he decided to put up a cross so that everyone would know that a Christian citizen had returned and lived there.
He was forced to leave Mosul for Erbil, the Christian-majority district of Ankawa, in June 2014 following the atrocious attacks by ISIS.
After ISIS captured most of the province of Ninewa, he offered Christians three choices: convert to Islam, pay ransom (Jizyah), or leave their homes, so most were forced to flee.
"This house I live in has been inherited from my ancestors. It is 150 years old. Only a few changes have been made and the old style of construction has remained, but it was badly damaged and collapsed due to the war," Naqash said.
Less than 15% of the house has been restored with the help of an international organization.
"I have been living alone in this house for five years and no government office or party has expressed willingness to at least repair my house."
His parents have deceased, his brother migrated to Australia and his sister resides Duhok Northern Province. His other relatives, including uncles and aunts, are living in Baghdad and other Iraqi provinces, and the rest have migrated abroad.
Almost four years following the declaration of ISIS defeat by the Iraqi government in 2017, large parts of Mosul, center of Ninewa province, mainly the Old City, still lie largely in ruins, due to poor funding, chronic mismanagement, corruption and political disputes.
Between June 2014 and July 2017 Mosul was occupied by the Islamic State IS. An estimated half a million people, including more than 120,000 Christians, fled from Mosul, center of Nineveh province.
Two decades ago, Iraq was home for over 1.5 million Christians, 3% of Iraq's population falling to 800,000 in 2003 following gulf war. They were mainly based in the provinces of Baghdad, Nineveh, Duhok, Kirkuk and Erbil. Latest figures say currently only 250,000 to 500,000 Christians are living in Iraq.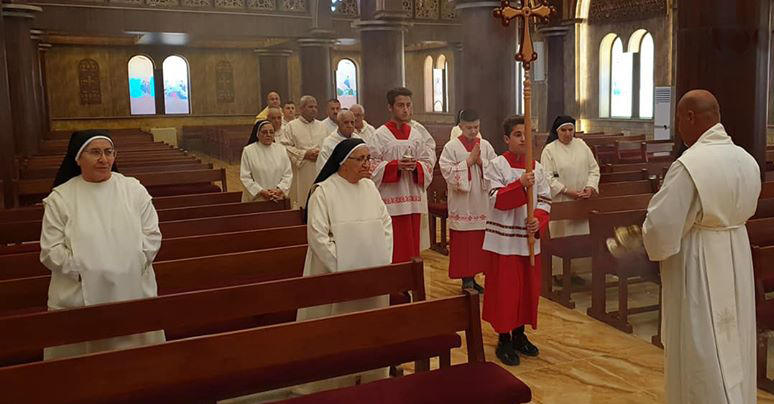 According to statistics from both the federal Iraqi and Kurdistan Regional governments, tens of thousands of Christian families have not yet returned to their homes and are living in displacement, while thousands of other families – more than 24,000 in Ninewa alone – have migrated to other countries.
"The Christians believe that if they return, they will face killing and displacement again. They no longer trust the authorities in the region, so most of them left the country."
Naqash says he is the only Christian who has returned to the Sa'a neighborhood and the number of families who have returned to the right bank of the city are few.
"All the families who have returned to our neighborhood are Muslims. We live together as brothers and sisters before ISIS and now.
The installation of the Majestic Cross preceded the church; There is a Sa'a church in the neighborhood, which is under renovation and has not yet been completed.
More than 80 Christian churches and places of worship have been blown up or destroyed by ISIS, most of which have not yet been repaired.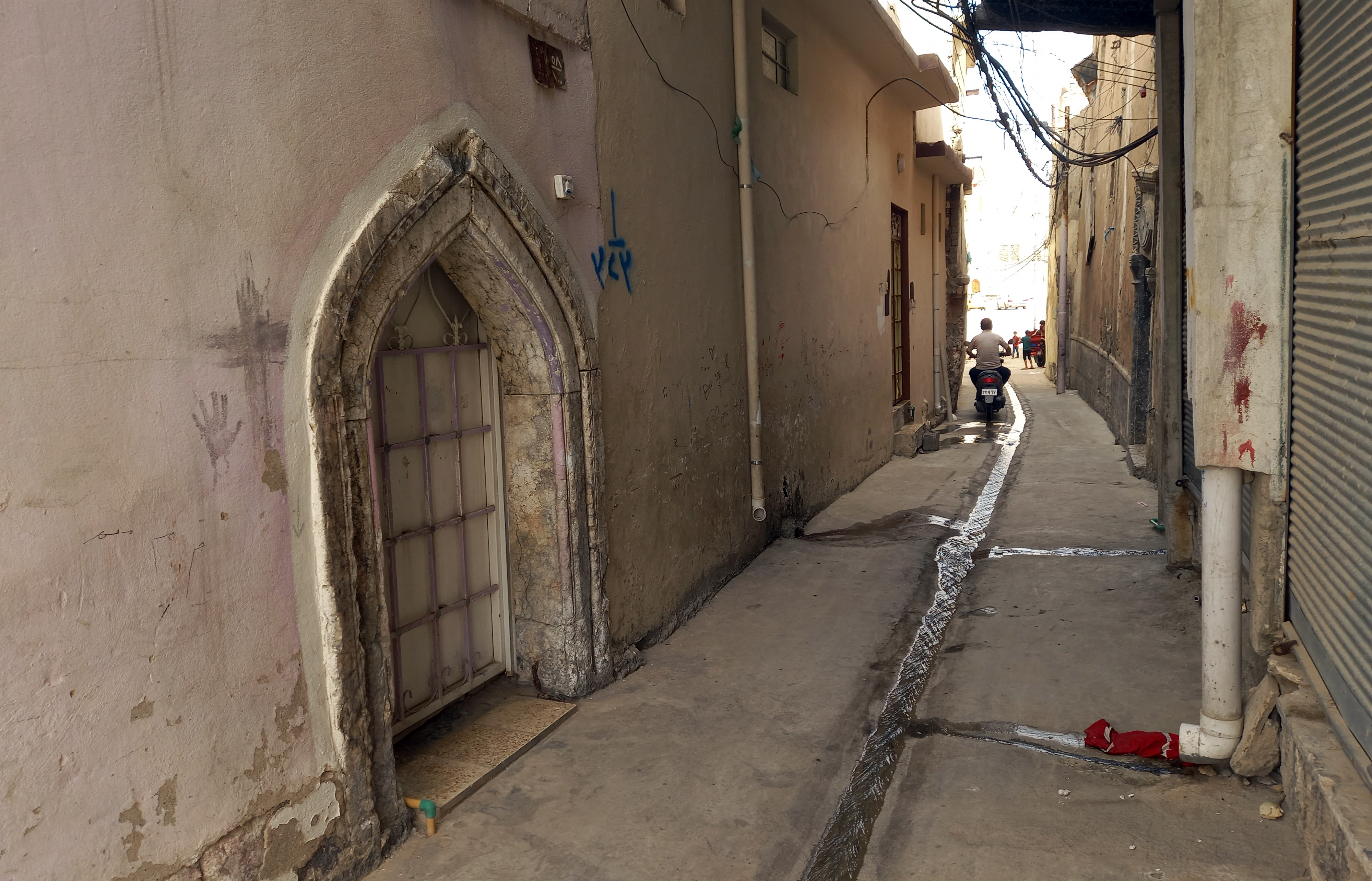 For worship, Naqash leaves his house to Mar (Saint) Paul's Church on the left bank of Mosul.
Most of the rest of the time he is at home; He used to work as a tile installer and jobless since the fight against ISIS. He lives on occasional financial assistance from organizations, often receiving food from his Muslim neighbors.
The lack or poor services, including electricity and water, is a major obstacle to the return of refugees.
"We don't know who to ask for services and repairs to our houses, so we only ask God."
Christian refugees account for 7% of the 664,000 Internally Displaced Persons IDP living in the Kurdistan Region of Iraq KRI, of whom 40% are from Mosul and the region of Ninewa.
Naqash naturally does not like to appear in the media. He refused to be photographed by KirkukNow and did not want to talk about his marriage and other details of his social life.
"There is a saying that a stone is valubale in its place. Besides, my love for Mosul and our neighborhood made me return and continue living in Mosul."