There are no Christian Internally Displaced Person IDP in the camps of Duhok Northern Province since almost half of them have migrated abroad and the rest live in different neighborhoods and areas of the province, few have returned to their war-torn region.
According to KirkukNow's reporter, there are no Christian families in the 16 IDP camps in Duhok and the majority of the residents of these camps are Ezidis (Yazidis).
"There were 110 Christian families in our camp and they disappeared after the liberation of their areas in the Nineveh plains (at the end of 2017)," said Clara Elias, director of Dawoodi camp in Amedi district.
After that the extremist militants of the Islamic State of Iraq and Syria ISIS captured most of the province of Nineveh; they offered Christians three choices: convert to Islam, pay jizyah (Ransom), or leave their homes, so most were forced to flee.
Most Christians settled in caravans provided by the church at the beginning of the exodus.
"Unlike other IDP, most of the Christians lived in caravans previously set up by the church, and some stayed in apartments and rentals," said Ablahad Hana, 68, a Christian IDP lives in an apartment for rent in Duhok.
Hannah, a father of four, moved to Duhok from Bartilla in the Nineveh plain, but has no intention of returning.
According to statistics from both the federal Iraqi and Kurdistan regional governments, tens of thousands of Christian families have not yet returned to their homes and are living in displacement, while thousands of other families – more than 24,000 in Ninewa province alone – have migrated to other countries.
Between June 2014 and July 2017 Mosul was occupied by the Islamic State IS. An estimated half a million people, including more than 120,000 Christians, fled from Mosul, center of Nineveh province.
Two decades ago, Iraq was home for over 1.5 million Christians, 3% of Iraq's population falling to 800,000 in 2003 following gulf war. They were mainly based in the provinces of Baghdad, Nineveh, Duhok, Kirkuk and Erbil. Latest figures say currently only 250,000 to 500,000 Christians are living in Iraq.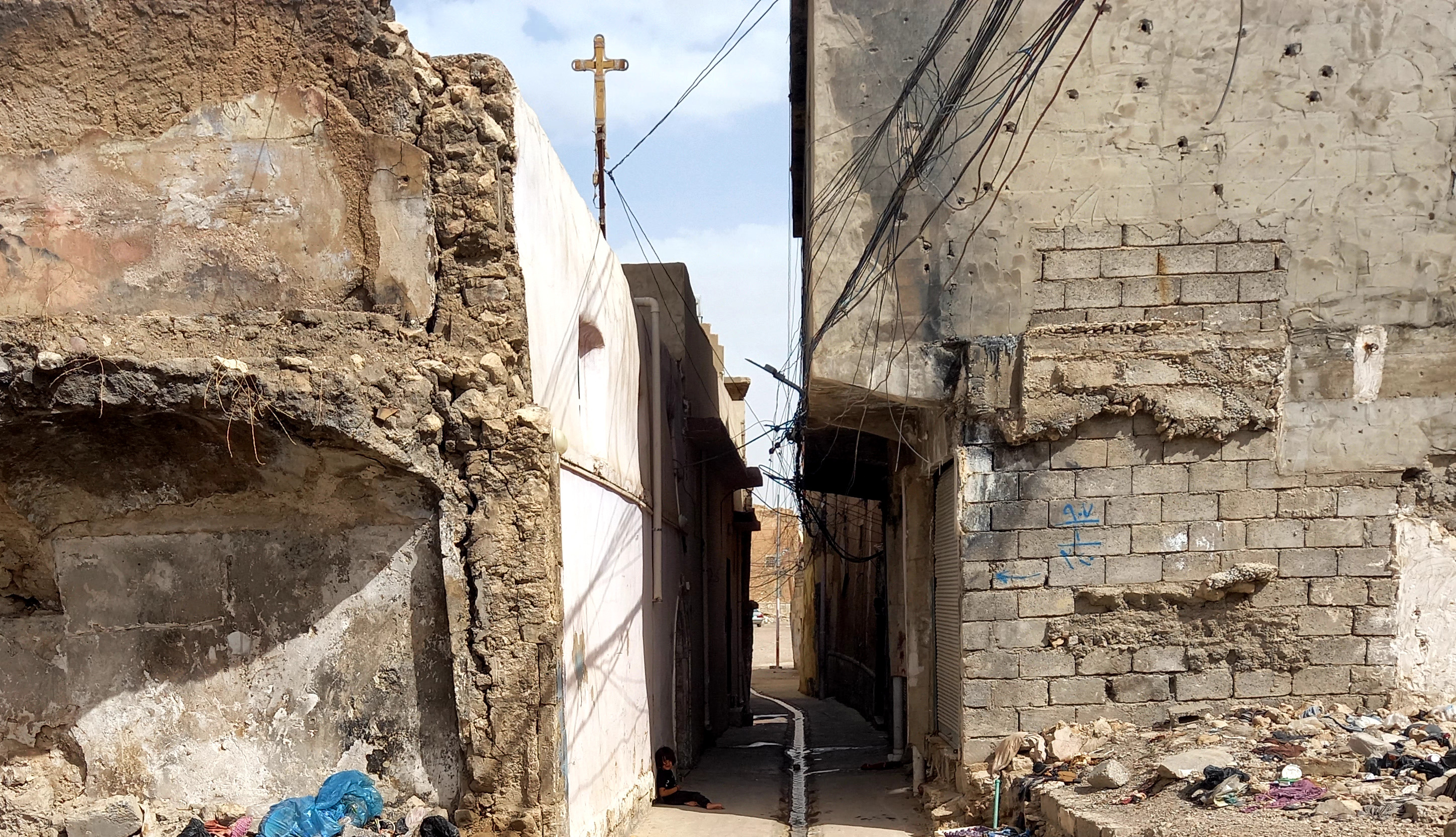 Linus Odisho, a member of the Duhok provincial council from the Christian community, told KirkukNow that about 9,000 Christian families were displaced to Duhok from the beginning of the ISIS war until the end of the war (2014-2017).
"Majority were sent to churches and Christian villages of Duhok, small part of them were sent to camps," he added.
"Overall, 40 to 45% of the Christian IDPs from Mosul and the Nineveh Plain have migrated abroad."
Odisho says 50% of the Christians in Hamdaniyah and Bartilla in the Nineveh Plain have returned, 40% have gone abroad, some have remained in Erbil and Duhok and about 80-90% of the Christians in Telkef have migrated and the rest live in Duhok.
He said 60% of the Christians in Telsqof have returned, some of them in Duhok, and most of the Christians in central Mosul have gone abroad.
Christian officials and clerics have repeatedly called for the return of Christians, including the Pope Francis, during his visit to Iraq and in a church in Mosul urged Christian IDP to return and rebuild their areas.
40 to 45% of Christian IDP have migrated abroad
"I have moved my house nine times so far. First, we were in Dera village in Zakho, then to the center of Duhok, then every few months we moved to another rented house. Currently, I am living in Seje village of Duhok," said Gabriel Shamon, 66.
He is a Christian from Shingal (Sinjar) district of Ninewa province and was displaced eight years ago. Only half of the families he knows have migrated abroad and do not want to return.
"Their churches and houses have been destroyed."
About 100 Christian families lived in Shingal and had three churches that ISIS blew up along with 80 churches and places of worship in Nineveh, most of which still at ruins.
Sabah Sabri Shamoun, a representative of the Christians of Shingal, said only 65 families of Sinjar Christians moved to Duhok and "most of them lived with relatives or in churches and villages of Duhok not camps. Half of them migrated, rest are in the Kurdistan Region."
Christian IDP account for 7% of the 664,000 IDP living in the Kurdistan Region, with 42% in Duhok and 40% originally from Ninewa.
"There are no Christian IDP in the camps of Duhok province and most of those living in the camps are Yazidis from Sinjar and surrounding areas," said Dian Jaafar, director of the Kurdistan Regional Government's Migration and IDP Office in Duhok.
According to previous investigations by KirkukNow in July, this year alone 30 Christian families were displaced for the second time from their hometowns of Hamdaniyah district of the Nineveh plains to the cities of the Kurdistan Region.
Except for Ninewa, all the camps in other Iraqi provinces have been closed and their residents have been returned to their homes, except for the camps in the Kurdistan Region, which remain according to an agreement Between Baghdad and Erbil.